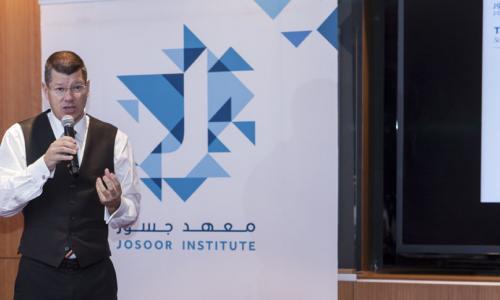 Doha, Qatar – 21 October, 2015: Neil Doncaster, Chief Executive of the Scottish Professional Football League (SPFL), Non-Executive Board Director for the Association of European Professional Football Leagues and Executive in Residence with Liverpool University Management School, came to Doha this week to share best practices from the SPFL with delegates at Josoor Institute's professional Certificate Programme on "Football and Sports Management".
The renowned Scottish football executive discussed relevant topics for the modern world of football, including branding, engaging with fans, sport marketing and communications, and sponsorships. He also presented several case studies from the Scottish football market.
The 18 month professional Certificate Programmes on "Football and Sports Management" and "Major Events Management" are organized by Josoor Institute, a centre of excellence inspired and developed by the Supreme Committee for Delivery & Legacy (SC), are delivered in partnership with renowned international academic partners such as Georgetown University, the University of Liverpool and Leeds Beckett University.
For more details on Josoor Institute's upcoming activities and programmes, please visit: www.josoorinstitute.qa