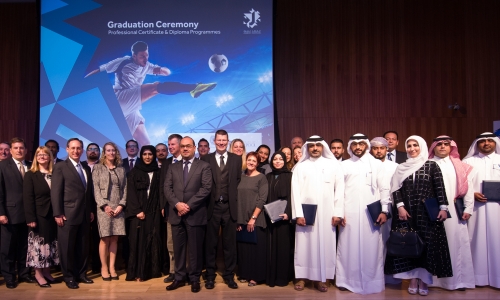 Josoor Institute successfully completed the first cohort of its "Major Events Management" and "Football and Sports Management" professional certificate and diploma programmes as the programmes came to an end with its final block. Following an 18-month journey packed with valuable knowledge transfer sessions, engaging debates and interactive group activities, 68 delegates from Qatar and the region are now fully equipped to face and overcome the challenges of delivering exceptional events.
Josoor Institute is a centre of excellence for the sports and events industries, inspired and developed by the Supreme Committee for Delivery & Legacy (SC). The certificate and diploma programmes are among Josoor Institute's most prominent educational offerings and is organised in partnership with
leading international academic institutions. All three academic partners including Georgetown University, University of Liverpool and Leeds Beckett University lent support in a variety of ways, notably through knowledge sharing by their faculty and offering guidance on creating educational programmes tailored to national and regional needs. The programmes were divided into six blocks and included teaching that was supported by online and classroom delivery. The certificate and diploma programmes featured a number of leading academics and industry experts who came to Qatar to share with delegates their wealth of knowledge and experience and carried on the learning experience through online advisory sessions.
Graduating delegates included professionals from Yemen, Oman, Palestine and Saudi Arabia coming from leading sports organisations including the Saudi Pro League, Yemen Football Association, Palestinian Football Association, Oman Football Association among others. Participating delegates from Qatar included professionals coming from some of the nation's leading sports organisations including the Qatar Football Association, Qatar Stars League, SC, and Aspire Academy.
The sixth and final block of the programmes ran from 06 – 10 November and trained delegates on topics such as creative event design and entrepreneurship, business strategies for event professionals, and applied legal professional practices. Block six of the event was culminated with a special graduation ceremony that was held in the presence of VIPs and dignitaries including His Excellency Hassan Al-Thawadi, the Secretary General of the SC. HE Al-Thawadi delivered a heartfelt congratulatory speech during the graduation urging delegates to make the most out of their learning journey and utilise the bond and connections established during the programmes.
While addressing the delegates at the ceremony, HE Al-Thawadi said: "The concept of a Centre of Excellence was on our agenda from a very early stage, as we were mindful of the need to provide a platform for cultivating the talent in our region to deliver a successful World Cup and also a platform for growing a burgeoning sports industry. And so Josoor Institute was founded. To stand here today in front of the first cohort of graduates, makes me immensely proud. I firmly believe that Josoor Institute offers something remarkably unique not only for the region, but also on a global level in the field of sports and events management.  I sincerely hope that what you have learned over the past 18 months prepares you for taking the next steps in your professional lives."
The graduation ceremony also included a presentation by Robert Elstone, the Chief Executive Officer of Everton FC who shared with the graduating delegates highlights from his career journey, his key learnings and best practices he adopts when building loyalty in sports. Elstone commended Qatar on its commitment to excellence and said: "It is always a pleasure to be back in Qatar. Qatar has a real commitment and a passion for sporting excellence and this is shown through the creation of institutions like Josoor Institute that provide the expertise to train and develop the human capital in the region. There are a lot of consistencies with Everton Football Club, because underneath our club crest you can see the words that denote 'Only the very best will do'; I always sense that Qatar has the same belief."
Josoor Institute is delivering on its mandate to cultivate the talent and unleash the human capital in the region to help grow and develop the sports and events industries. Commenting on the importance of the milestone achieved by Josoor Institute, Mushtaq Al-Waeli, Executive Director (acting) said: "The successful completion of our professional certificate and diploma programmes marks a great milestone in our journey. The experience gained and connections established through the programmes are unparalleled to any educational offerings in the region. The insights gathered during these workshops will not only enable delegates to further develop their personal careers, but it will also empower them to shape our industry's future."
Following the success of the first cohort of the professional certificate and diploma programmes, Josoor Institute is already working on next year's set of certificate and diploma programmes. More information about the topics and the dates of the programmes will soon be announced.
Interested delegates can now apply for the second cohort of the professional certificate and diploma programmes which will begin early 2017 by visiting Josoor Institute's website www.josoorinstitute.qa and find out more about upcoming programmes. Additionally, they may contact delegate@josoorinstitute.qa for more information.