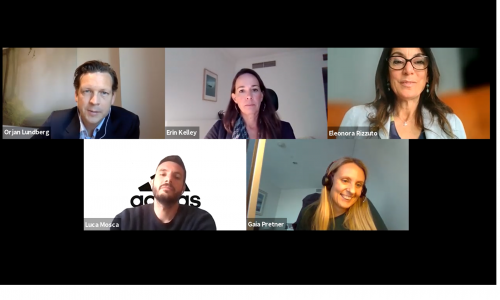 Football, Fashion and the Circular Economy, the last online session in the regular Sustainability Series hosted by Josoor Institute and the SC's Sustainability team, lined up a stellar panel of international speakers that shed light on the concept and best practices in the circular economy. 
 Moderated by Orjan Lundberg, Sustainability Expert, Supreme Committee for Delivery & Legacy, the panel featured Erin Kelley, Sustainability Manager at FIFA World Cup Qatar 2022 LLC, Eleonora Rizzuto, Founder & President of Associazione Italiana per lo Sviluppo dell'Economia Circolare (AISEC) and Director of Corporate Sustainability & Responsibility at Bulgari/LVMH, Gaia Pretner, Sustainable Procurement Manager at FIFA World Cup Qatar 2022 LLC, and Luca Mosca, Senior Manager Brand Sustainability at Adidas. 
The first part of the session gave members of the audience with limited knowledge of the concept of a mini-crash course in Circular Economy as an approach to reduce waste and resources by keeping products, infrastructure and much more, in use for longer. Specifically, Gaia Pretner shared the generally accepted definition of Circular Economy by Ellen Mac Arthur Foundation (regenerative by design and restorative by intention) and explained the paradigm shift transitioning from linear to circular model represents; how that applies to a major event organization such as FWC Qatar 2022; and the different phases throughout the planning, procurement, construction, operation, event, dismantling/reuse and recycle.
 Gaia's remarks were followed by a series of interventions, in which the panellists shared their experience in applying this new paradigm to the work of their organizations.
 Carbon impact and plastic impact as the main challenges Adidas is tackling, Luca Mosca presented Adidas' approach to sustainability, encompassing a 3 Loop strategy (Recycled Loop, Circular Loop, and Regenerative Loop); Innovation through new circular business models; and Eco-Innovation through new partnerships. Examples of products include shoes made with plastic recycled from the ocean (15m pairs of shoes in 2020), fully recyclable performance apparel & footwear and a bio-based tennis dress designed with Stella McCartney. At the production level, the adoption of glueless assembling technology is an example of innovation in Adidas' value chain which is a key enabler to create fully recyclable footwear. Luca's intervention closed with Adidas' outlook in sustainability over the short, medium and long term. By 2024, for instance, Adidas expects to phase out the use of virgin plastic from its entire production. Importantly, the industry more in general is going in the direction of sustainability and that helps keep retail prices reasonable for consumers.
 Eleonora Rizzuto shared her experience in the development and launch of AISEC with the goal of promoting a vision beyond just recycling, and including an approach to environmental matters that includes a social component, for example, jobs the circular model can create and new job opportunities circular models business plans can generate. To that end, public-private partnerships are key as they help test and improve new models. The work of AISEC is to provide ideas and solutions in that direction. In the sports sector, for instance, used sneakers can be recycled in collaboration with local authorities and use the materials again (Pietro Mennea's Road, a project named after the legendary Italian 200m world record man); another example is new guidelines for Mediterranean Games in Taranto, Southern Italy, in 2026 especially targeting the new generation. 
For the luxury sector, a lot has been done in the past few years to handle sustainability in a business way. Stella MC is an example as part of the LVMH family, and the innovation goes from pre-design and creation to the end product. The European laws are now imposing zero waste on textiles by 2022, so it is now mandatory to work on these projects. In sum, the luxury industry has to embrace the paradigm of the Circular Economy. Precious stones, diamonds are another core area. Plastic-free is increasingly common practice across all LVMH brands, including in packaging. That also reflects the demand of consumers for plastic-free products. Can one separate sustainability from luxury products? The answer is no: sustainability has to be tangibly implemented into both the company and the supply chain. Integrated efforts in R&D are also key to enhance the impact of these efforts.
 Erin Kelley shared experience from the FIFA Club World Cup 2020TM, a recent test event where circular economy principles were put into practice in important areas including procurement, contracts, awareness-raising, training, site operations and downstream waste handling. Food and beverages for spectators and the workforce, furniture, merchandise, face shields and masks, and all sorts of the packaging represent some of the largest waste sources at a tournament. Planning sustainably, Erin emphasized, implies interventions at all stages: within the supply chain, and during procurement and operations. For example, FIFA Club World Cup organizers limited the amount of material that would ultimately leave the site as waste (such as single-use plastics) by setting associated requirements in supplier contracts. During the event, helping spectators and staff to separate wastes such as food and packaging into recyclable streams diverted waste from landfill. To that end, recycling stations and composting equipment were also installed to ensure downstream practical reuse of waste collected. Awareness campaigns targeting all stakeholders pre-and during the event was also key. Through effective cross-functional collaboration, the organizers diverted 42% of total waste from landfill, setting a new standard for waste management in the Qatar events industry. The majority of recyclable waste is being processed for reuse within the agricultural and other industries in Qatar. In other words, efforts to avoid waste pay off. 
 What does the future hold? The panellists shared closing pieces of advice for the audience:
Measure, have an idea of where you can have the highest impact, life-cycle assessment, where your product causes the worse damage.
For a brand organization, waiting for the perfect solution in place before launching might be too late. When it comes to circularity, we should be bold enough to start working on this even though we do not have all the answers, we have to send signals that there is business demand for these (circular) products; and regulation plays a huge role.
Transversal work applies when it comes to business in the circular economy, a holistic vision is essential and everybody should be at the table.
To apply the circular economy concept for the first time, start with a small project to allow focus and increase chances of success. Motivate and support the parts of the supply chain that need to change, and get support from the key decision-makers in your own organisation. A successful small project can have positive impacts and valuable lessons that will benefit other projects.
You can watch the session here