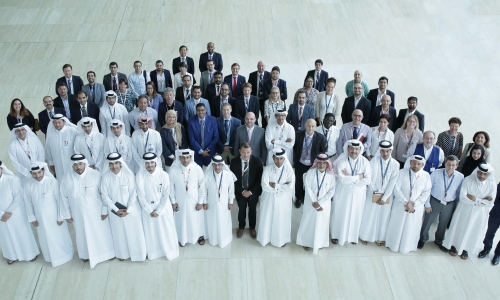 Josoor Institute, along with its founder the Supreme Committee for Delivery & Legacy (SC) and the Gulf Organisation for Research & Development (GORD), has delivered a key sustainability workshop titled 'Carbon Neutrality of Organisations and Events'.
Held in Doha, the workshop was attended by over 100 delegates and is one of multiple initiatives led by the SC's sustainability department to engage society for advancing the climate actions to create a legacy.
Sessions were organised to build awareness about climate actions from a regional perspective, developing GHG inventory for organisations and events, mitigating carbon through various reduction strategies and offsetting carbon through high quality projects.
All delegates were professionals working in Qatar representing a wide range of organisations in different sectors, including transportation, oil and gas, power, waste management, manufacturing and event management. They actively took part in the discussions during various sessions and provided positive feedback on overall organization and contents of the workshop.
GORD engaged distinguished international speakers, as well as regional organisations such as the UN Environment Programme, IETA-ICROA, Verico SCE, Kuwait National Petroleum Company, Energy Efficiency Services Ltd and Energy Changes. In addition, senior officials from Hamad International Airport, the 2022 FIFA World Qatar™ Local Organising Committee, the SC, GORD and GCT were among the speakers.
The SC has collaborated with GORD on multiple occasions to develop the host country's strategy for delivering a highly sustainable and carbon neutral tournament. Carbon neutrality is a major component of this strategy along with advance climate actions such as an engaging society and creating an empowered carbon management platform to enable the carbon neutrality.
Gulf Carbon Trust (GCT) is the first regional platform of this nature that is now a member IETA (International Emissions Trading Association), will help to offset the host country carbon emissions for the world cup.
Commenting on the importance of making sustainability a cornerstone of the 2022 FIFA World Cup Qatar™, Bodour Al-Meer, Environment and Sustainability Manager at the SC, said: "Hosting the 2022 FIFA World Cup in Qatar is a precious opportunity that we must not waste. We must work together to deliver a carbon neutral tournament in 2022 as well as a legacy of a low-carbon future for our country and the region."
Summing up the expectations from the workshop, Dr Yousef Alhorr, Founding Chairman GORD, added: "Our expectations for interactions by participating organisations after this workshop can be in the form of neutralising their carbon emissions and obtain certification from GCT, implementing carbon offset projects in their organisations to sell carbon credits to SC and collaborating with the SC and GORD to spread awareness in society – and by educating their organisations about sustainability. A call for action is extended to organisations to come forward and submit their innovative project ideas to GCT to contribute to a low-carbon society and carbon neutrality of the world cup."