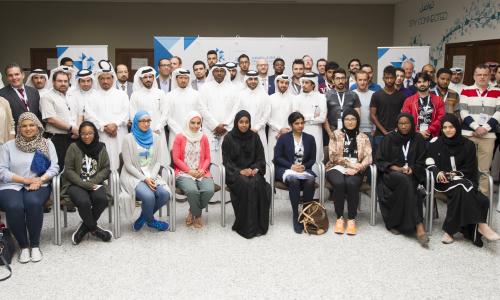 Josoor Institute, a centre of excellence for the sports and events industries, inspired and developed by the Supreme Committee for Delivery & Legacy (SC) collaborated for the first time with Qatar University's College of Arts and Sciences (QU-CAS) to deliver two engaging professional development workshops on sports and events.
The two workshops titled "Marketing and Public Relations (PR) for Sport and Major Events" and "Creating High Performance Sports Organisations" are the result of a long-lasting partnership between Qatar University and Josoor Institute and had in attendance a large number of delegates including over 60 students from QU. The workshops also had over 40 delegates from the Qatar Stars Leagues and its clubs attend and engage in some very thought-provoking discussions with the speakers. Overall, there were 180 delegates from various local organisations attending the workshops.
Commenting on the successful partnership, Mushtaq Al-Waeli, Executive Director (acting) of Josoor Institute, said:  
"This was our first collaboration with Qatar University for the delivery of professional development workshops and I would like to commend the Qatar University team on their contribution for making the workshops a success. We greatly value our partnership with Qatar University and together we aim to train and inspire many professionals working in the sports and events industries in Qatar and the MENA region. This would especially include the younger generations who have the important mission to build Qatar's leading position in these industries and to deliver an amazing 2022 FIFA World Cup."
Both Josoor Institute's workshops were tailored to address the challenges faced by the sports and events professionals in the MENA region and to build sustainable sports and events industries in this part of the world.
"Marketing and PR for Sport and Major Events" workshop examined the essential role that marketing and PR play in driving interest and increasing visibility for sporting and non-sporting major events. With many World Championships and regional events embraced by the Arab world in recent years and several large-scale brands and promoters defining specific approaches for the local market, there is an increasing demand for sports marketing and PR professionals in the region.
Josoor Institute's workshop developed some engaging and interesting topics, from practical tips for successful sports and marketing campaigns, including best real life examples of sports campaigns in the Middle East, to the impact of social media for the sports industry.
"Creating High Performance Sports Organisations" is another relevant topic for the sports organisations in Qatar and the region. The workshop started with a session delivered by the sports psychologist Tom Cross, which prepared the delegates for change and innovation by making them more aware of their own personal style of working and interacting with their teams.
Each workshop also featured a keynote speaker who shared knowledge and inspiration with the delegates. The first keynote speaker was Sunny Singh, Senior Marketing Officer at Qatar Sports Investment (BURRDA Sportswear Brand), who talked about driving innovation, reaching new audiences and building relationships. Simon Clegg, one of the most experienced sports business leaders in the UK joined as a keynote speaker for the second workshop, and focused on the importance of setting goals and managing success and failure in the context of world-class sporting organisations.
Commenting on the great success of the workshops among QU students, Dr Ruben Goebel, Director of the Sport Science Program at CAS, said: "The high-quality workshops that have been delivered at Qatar University in partnership with Josoor Institute were an outstanding opportunity for our students at the Sport Science Program of the College of Arts and Sciences and all other delegates to interact with world-leading individuals in the sector of Sport Marketing and PR. The partnership of our institutions opens great opportunities, and brings together current world leaders and new talents in the field. We value this partnership, and we are looking forward to evolving these kind of collaborative workshops in the future".
Both workshops were delivered by a line-up of international and local experts, including Dr Mahfoud Amara, Assistant Professor, Sport Management and Policy at Qatar University, Nick Thain, CEO of Sports New Media and GiveMeSport and social media expert for the sports industry and Keith Scully, Adjunct Professor at Georgetown University.
Over the past decade, Qatar has gained a strong reputation for successfully hosting sports and major events. The country has welcomed some of the world's biggest events in sports, business, and energy including the 2006 Asian Games, the UN's Climate Change Conference COP 18, and the world's largest petroleum conference, WPC. In the future, Qatar is set to welcome even bigger events, particularly in sports, where the country will host the UCI Road World Championships in cycling in 2016, the 2022 FIFA World Cup Qatar™, and the most recently awarded FINA World Championships and FINA World Masters Championships in 2023. Workshops designed and delivered by Josoor Institute help to build human capacity to manage such mega events.
To learn more about Josoor Institute and its upcoming programmes, visit www.josoorinstitute.qa.