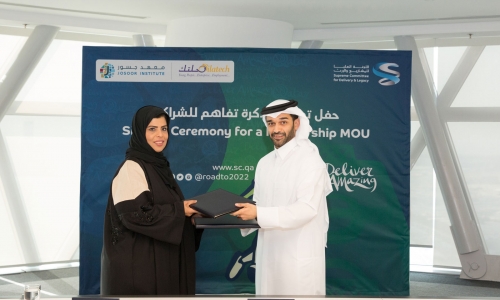 The Supreme Committee for Delivery & Legacy (SC) has signed a Memorandum of Understanding (MoU) with Silatech, the international social development organization that works to create jobs and expand economic opportunities for youth in the Arab world.
The recent MoU was signed via the Josoor Institute, the SC-developed centre of excellence for the sports and events industries that is honing the next generation of professionals, and cements a longstanding partnership between the SC and Silatech.
The MoU, which was signed by SC Secretary General H.E. Hassan Al Thawadi and Silatech's Chief Executive Officer Sabah Al Haidoos, aims to mobilise resources and leverage the combined regional networks of both the organisations to invest in youth talent and capabilities in the Arab world to capitalise on the hosting of the 2022 FIFA World Cup™.
SC Secretary General Hassan Al Thawadi said: "Silatech has been SC's long-standing partners whom we have worked closely with since we were awarded the hosting rights for the 2022 FIFA World Cup Qatar™. We are delighted to build on a continuous cooperation that supports our vision to ensure the first Arab World Cup leaves a strong human legacy beyond 2022.
Al Thawadi added: "By enhancing the skills of young people across the Arab region and providing them with the newest trends in sporting events, we're aiming to create a generation that is aware and capable of developing and improving in this new and exciting industry, benefiting not only the State of Qatar but the entire Arab region."
Silatech's CEO Sabah Al Haidoos said: "Hosting the 2022 FIFA World Cup in Qatar is a major achievement not only for Qatar, but for the entire Arab world, and has a promising development prospects for the whole region."
She added: "We are pleased to collaborate further with SC, our strategic partner, to leverage our wide networks and programmes in Arab countries, and expand opportunities for youth in the growing and dynamic sports sectors and events management, helping them become an integral part of the historical success of such a major event."
The partnership between the SC and Silatech dates back to 2015 and the launch of Challenge 22, the SC's flagship regional innovation award that aims to promote a culture of innovation in the Middle East. Silatech continues to be a partner of the programme.