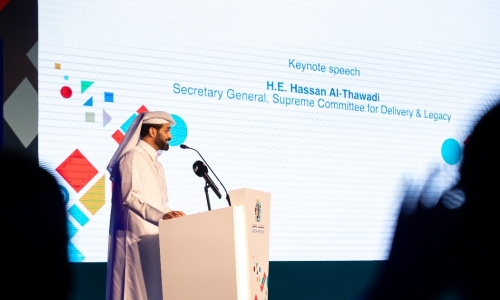 Josoor Institute has celebrated a new milestone in its journey after more than 90 delegates successfully completed the third cohort of its professional diploma programmes in sports and major events management.
The FIFA World Cup Qatar 2022™ legacy programme was praised during Monday night's ceremony at the Doha St Regis for contributing to the development of the sporting and events industries – both in Qatar and across the region.
Speaking during the ceremony, H.E. Hassan Al Thawadi, Secretary General of the Supreme Committee for Delivery & Legacy, said: "We are determined that our World Cup will leave a legacy unmatched by any previous edition of the tournament and it's thanks to initiatives like the Josoor Institute that we will leave a tangible legacy for the benefit of millions of people.
"Put very simply, the Josoor Institute is transforming lives and careers. It's training the next generation, imparting knowledge from global experts, and will ultimately help the sporting and events industries to flourish across our region. Thanks to Josoor, people and businesses are getting the chance to reach their potential – and that is what Qatar 2022 is all about."
Afraa Al Noaimi, Executive Director of Josoor Institute, said: "On behalf of everyone at Josoor Institute, I would like to congratulate our delegates on their achievement. They now have the opportunity to join the ranks of many successful delegates who have gone on to assume leading positions and contribute to the capacity of our sports and events industries. It has been an honour to help them carve their path towards realising their career aspirations."
This latest milestone illustrates Josoor Institute's efforts to build human capacity by providing impactful education programmes for the people who will contribute to building sustainable sports and events industries in Qatar and the region, both in the lead-up to the FIFA World Cup and beyond.
The professional diploma programmes are aimed towards those hoping to pursue or further their professional careers. To date, 240 delegates have graduated from the programmes, moving on to new chapters in their professional lives.
The programmes are academically designed to bring the worlds of theory and practice together. Following a demanding year of expert-led workshops and other learning opportunities, delegates leave with a practical skillset which helps them tackle challenges with confidence – both in and beyond the classroom.
Content is localised through Josoor Institute's research on the MENA region in order to contextualise information with local data, rather than simply focusing on international data, so that delegates can compare and contrast challenges in the sports and events fields at home and overseas.
Block one of the fourth cohort of Josoor Institute's professional diploma programmes began on 16 February. The programme is delivered in six blocks, with each module delivered over a week. For the first time, the diploma programmes will be delivered in both Arabic and English.
All applicants who have completed a college diploma or university degree are eligible for admission. For more information and to apply to one of Josoor Institute's diploma programmes, click here.