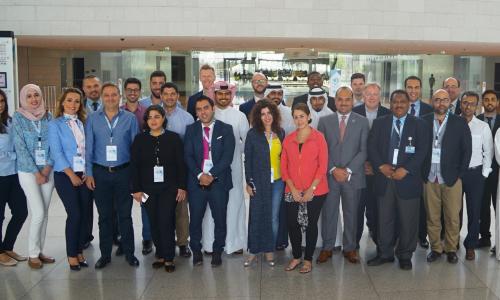 Josoor Institute kick-started today the September sessions of its Training and Development Programmes that are organised and delivered in partnership with Leaders, a global event, publishing and consultancy business in sport. The programmes that will run between 26 – 29 September include the 'Advance Leadership Programme', 'Professional Development Workshops', 'Masterclass' session, 'Executive Networking' sessions and student 'Outreach' sessions.
Josoor Institute is a centre of excellence for the sports and events industries, inspired and developed by the Supreme Committee for Delivery & Legacy (SC). It's training and development offerings are set to run each month from September to December and will provide the tools necessary for professionals in the sports and events industries to grow and advance in their careers.  Programmes' topics range from strategic management to commercial best practices to leadership and venue management.
Addressing over 40 local and regional delegates at the event, Mushtaq Al Waeli the Executive Director (acting) of Josoor Institute, welcomed delegates today and encouraged them to make the most out of the session and engage with the world-class speakers delivering the sessions. Renowned CEOs, COOs and coaches from the NBA, Liverpool FC, the Welsh Football Association and the Jockey Club have flown in to Qatar to share their knowledge and wealth of experience with the delegates.
To find out more about the ongoing session, log on to Josoor Institute's social media page on Facebook/JosoorInstitute, @JosoorInstitute on Twitter and Instagram or visit Josoor Institute's website www.josoorinstitute.qa to learn more and register for upcoming programmes.