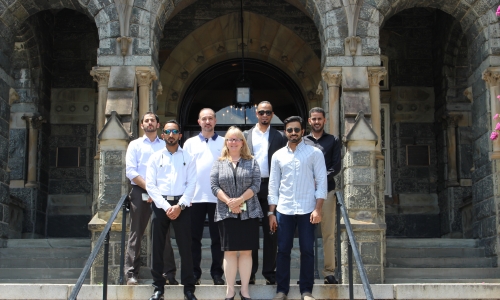 Josoor Institute, a centre of excellence inspired and developed by the Supreme Committee for Delivery & Legacy (SC), alongside its lead academic partner Georgetown University has contributed to the development of a Sport Leadership Summit in Washington, D.C. The summit was attended by delegates from the SC, the Qatar Stars League and the Al Kass Sports Channel. The three-day event was held from 24 to 26 July, 2017.
Faculty from Georgetown University's McDonough School of Business, School of Continuing Studies, and the Barça Innovation Hub attended the summit. They interacted with delegates and delivered sessions throughout the three days. The sessions aimed at developing leadership skills for senior staff whilst focusing on innovation, creativity, team-building and leading effective teams.
Commenting on the relevance of the summit, H.E. Hassan Al Thawadi, SC Secretary General said: "As we prepare for the delivery of one of global sports' most significant events, it is critical that our workforce at all levels is well equipped to face this challenge."
He added: "Participation in programmes such as the Sport Leadership Summit demonstrate Josoor Institute's efforts to ensure that we are able to adopt the best international knowledge and in turn build a cohesive eco-system in our sports and events industries by bringing delegates from various organisations together to work with leading academics and industry partners".
As part of the summit, the delegates participated in a session delivered by the Barça Innovation Hub, a FC Barcelona platform that aims to make an impact through sporting excellence via knowledge and innovation. This opportunity provided the delegates exclusive insights about how football's leading clubs are focusing on continuously evolving and building mechanisms to be different. The session also involved panel discussions on a wide range of topics such as new business frontiers in sports, future of technology in sports and advances in women's sports.
Speaking on the success of the Summit, Dr Cynthia Hebsgaard, Senior Assistant Dean, Executive & Professional Education at Georgetown University Qatar said: "We are delighted to have this opportunity to work with our colleagues at Josoor Institute to develop and deliver a superlative learning experience for their delegates. Our relationship with Josoor Institute enables the ability to combine current academic wisdom and real world insight into a very dynamic and constantly evolving sports industry".
Josoor Institute is now gearing for the delivery of its next set of workshops, which focus on the themes of sports media and journalism and hospitality and tourism in sports and events. For more details on these and to register, visit: www.josoorinstitute.qa.