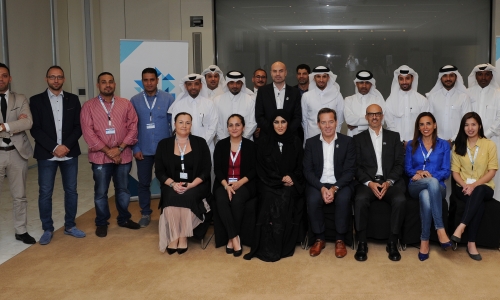 Josoor Institute completed the second set of its Training and Development Programmes with great success and is gearing up towards its November programmes that will take place between 21-24 November. The training and development programmes are organised and delivered in partnership with Leaders, a global event, publishing and consultancy business in sport. 
Josoor Institute is a centre of excellence for the sports and events industries, inspired and developed by the Supreme Committee for Delivery & Legacy (SC). The training and development programmes have five sets of offerings that began in September and will carry on through to December. Speaking about Josoor Institute's Training and Development Programmes, Mushtaq Al Waeli, Executive Director (acting) of Josoor Institute said: "We greatly value our partnership with Leaders and together we aim to train, inspire and grow professionals working in the sports and events industries in Qatar and the MENA region.  During the professional development workshop, industry professionals explored different ways to commercialise sporting rights and improve commercial models and were able to take vital learnings back to their organisations."
The October sessions on 'Commercial Best Practise' saw dynamic debates and interactive sessions amongst delegates. The focus was on developing the commercial skills required to increase revenue within sports and events organisations. The last day of the October professional development workshop was held at Al Sadd Stadium. Working on site, the delegates got the opportunity to put their learnings into practice through interactive group exercises. The delegates also met with the commercial director from Al Sadd Sports Club, where they learned about the commercial and managerial considerations that go into running one of Qatar's leading sports clubs.
The Student Outreach that was held at Carnegie Mellon University in Qatar saw more than 50 students from various universities including Carnegie Mellon, Qatar University, Stenden University and College of North Atlantic. Students got an opportunity to explore what it takes to be on the operational side of sports clubs with particular emphasis on team management.
Sharing his experience of being a speaker at the workshop, Javier Martinez, the Managing Director of Business Development, Sales and Marketing of Atletico Madrid said: "These kinds of workshops offer great value in terms of sharing knowledge, both theoretical and practical. A memorable moment from my session was seeing delegates debate fan engagement, digital growth and new stadium experiences. This showed how passionate and committed individuals in the region are about improving the sports industry."
The upcoming training and development programmes will take place from 21 to 24 November and will focus on sports marketing, which includes developing new ways to engage fans, creative marketing strategies and approaches, communicating effectively to a wider audience and learning how organisations deliver marketing campaigns through practical experience. The range of programmes offered are targeted at a range of audience varying from students to senior executives.  
The November block of programmes will be delivered by renowned industry experts including: Richard Kenyon, Director of Marketing and Communications of Everton Football Club, one of the biggest clubs in the Premier League; Will Chignell, Chief Marketing & Communications Officer at America's Cup.  Also joining the esteemed speakers are: Jeff Mirman, Head of Digital Strategy of Qatari Sports Investments who leads the digital strategy for Paris St. Germain and beIN Media Group, and Andy Elliott, Media Consultant of UEFA who has worked at executive level in digital media for over 30 years, to name a few.
Interested delegates are encouraged to visit Josoor Institute's website www.josoorinstitute.qa to find out more about each programme and to register.  Additionally, they may contact delegate@josoorinstitute.qa for more information.