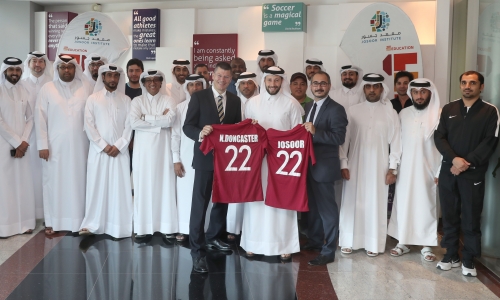 Josoor Institute recently completed the delivery of a bespoke workshop for delegates of the Qatar Football Association (QFA) held at the National Team's offices at Aspire Academy.  The two-day  workshop titled 'Leading the Qatar National Teams towards Excellence' took place from 14 to 15 September 2017 and focused on the Qatar national teams four core values - honour, loyalty, respect and victory.
The workshop, which was led by Neil Doncaster, Chief Executive of the Scottish Professional Football League provided a number of interactive sessions. Delegates were given team-bonding exercises to spark their creative thinking and problem solving skills. With media interactions (local or international) being a core part of the roles, delegates were also put under the spotlight and provided with challenging scenarios, which they were then asked to dissect and analyse, all while being filmed.
Speaking on the QFA's participation, Ahmed Khellil Abbassi, Director of Operations at the Qatar National Teams, said: "We are constantly striving to motivate our players on the field but the only way to achieve success is if everyone on and off the field lives and breathes the same vision. This workshop was a great opportunity to re-align ourselves towards our vision and encourage us to always think outside the box. Qatar has a number of talented and competent football managers and administrators, all working towards establishing the fundamental pillars that will help the QFA reach and exceed its objectives. Workshops such as this are a key part of that journey."
Commenting on his participation as a speaker, Doncaster said: "It is always a pleasure to work with football professionals in Qatar. Although there may be many differences in the challenges we face every day, we are all working towards having effective teams. Within this workshop, we exchanged global case studies where the national team's four core values were brought to life. I am confident that the hard work the delegates are doing now will make a great impact in 2022".
Josoor Institute is a centre of excellence for the sports and events industries, inspired and developed by the Supreme Committee for Delivery & Legacy (SC). Since its inception in December 2013, it has engaged with over 2,600 delegates. The recent QFA workshop encouraged team managers and administrators working closely alongside the Qatar National Team to enhance team performance, improve the relationship between coaches and players and embed their core values amongst all team members.
Moving forward, Josoor Institute will be hosting a number of bespoke workshops that are tailor made to fit an organizational needs.  For those interested to learn more, visit Josoor Institute's website www.josoorinstitute.qa or email delegate@josoorinstitute.qa