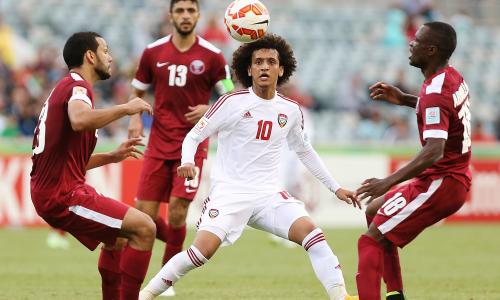 Regional companies sign up to support the Future Vision initiative of the region's leading sports conference
Under the patronage of his Highness Sheikh Nahyan bin Zayed al Nahyan, the Chairman of Abu Dhabi Sports Council, Professional Sports Group is delighted to announce that Josoor Institute have become a Future Vision & Gold partner to The Arabian Sport and Sponsorship Forum alongside the Arab Universities Sports Federation and Miral Asset Management.
The Josoor Institute is a Centre of Excellence for the sports and events industries. It is inspired and developed by Qatar's Supreme Committee for Delivery & Legacy, the organisation tasked with delivering the tournament infrastructure for the 2022 FIFA World CupTM. In Arabic, the word 'Josoor' means 'bridge'. This perfectly describes their core purpose to bridge the development gap in the sports and events industries in terms of both talent and expertise within Qatar, the Middle East and North Africa (MENA) region. The Josoor Institute aims to be a catalyst for transforming these industries in the region and set new standards globally.
Mushtaq Al-Waeli, Executive Director (acting), Josoor Institute commented: "The 2022 FIFA World Cup has brought a unique opportunity for our region and to deliver a successful World Cup, we require a locally trained workforce. Josoor Institute's vision is to fulfil this need by educating, empowering and supporting the talented people who will be able to deliver an amazing World Cup. These endeavors will help build a strong and lasting legacy for the MENA region. Our involvement with the Arabian Sport and Sponsorship Forum reiterates this vision and has given us an opportunity to further engage with our audience in the UAE and strengthen our human capacity building initiatives."
Mr Al-Waeli will be a panelist alongside HE Mohamed Khalfan Al Rumaithi, Executive Committee Asian Football Confederation, HE Aref Hamad Al Awani, General Secretary Abu Dhabi Sports Council and Simon Clegg, COO Baku 2015 and formerly CEO of British Olympic Association. The panel will discuss the economic and social role of major events.
Joining Josoor Institute as a Gold and Future Vision partner is the Arab Universities Sports Federation, which promotes undergraduate sporting events in the region, as well as Miral, the asset management company behind Yas Island. Miral is responsible for the global promotion of Yas Island, as well as the development and management of the destination's leisure and entertainment attractions. The Forum is being held at Yas Marina Circuit and further illustrates the Island's position as one of the world's leading sports and entertainment destinations.
Other esteemed panelists to have joined Shaima Al Zarouni, CEO of Dubai's International Humanitarian City, who oversaw success of the UAE National Sports Day project in November 2016, as well as Patrick Pierce, the Vice President of Etihad Airways. Further details are at www.arabiansponsorship.com.
The Arabian Sport and Sponsorship Forum is also proudly supported by Abu Dhabi Sports Council, the platinum partner, Yas Marina Circuit, Etihad Airways and Zayed Sports City - as well as AllAboutBrands, ISportConnect, Plan B, Getty Images, SportBusiness and Sport 360.
The Arabian Sport and Sponsorship Forum takes place on Tuesday 19th January 2016 at Yas Marina Circuit Press Room.