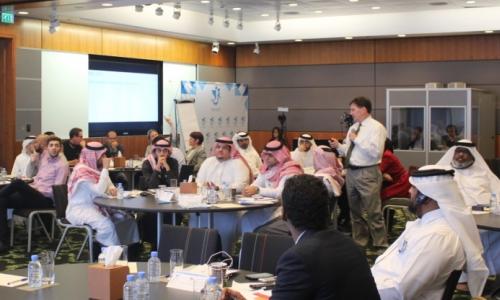 Josoor Institute, a centre of excellence for the sports and events industries, inspired and developed by the Supreme Committee for Delivery & Legacy (SC), kick-started 2016 by successfully completing the third block of its "Major Events Management" and "Football and Sports Management" certificate and diploma programmes.
The programmes are part of Josoor Institute's long-term commitment to building sustainable sports and events industries in Qatar and the Middle East and North Africa (MENA) region by developing a highly skilled human capital. Over the past two years, Josoor Institute has made significant progress towards achieving this goal by hosting 25 educational programmes and outreach activities, delivered by 189 speakers, which reached almost 1600 delegates from 70 nationalities.
Commenting on the achievements of Josoor Institute over the past two years, Mushtaq Al-Waeli, Executive Director (acting) of Josoor Institute, said: "We saw great success in our second year of operation and we are very proud of our accomplishments so far. For 2016, we have set our eyes on higher goals. We will strive to get closer to bridging the knowledge gap between where we are now as a region, and where we want to be. We are planning to cover a wider variety of topics for our delegates and to expand our reach to other countries in the region such as Oman and Saudi Arabia.
He added: "2016 is also the year when Josoor Institute will celebrate having the inaugural batch of graduates for the certificate and diploma programmes. We have great hopes for our delegates and we look forward to seeing them become the future leaders for the sports and events industries in Qatar and the region.
The 18-month certificate and diploma programmes are organised in partnership with leading international academic partners such as Georgetown University, University of Liverpool and Leeds Beckett University. The third block of the programmes trained delegates on topics such as the management of human resources for mega events, consumer behaviour, media and communications for sporting events, including media planning and crisis management.
As part of the programme, the delegates from the "Football and Sports Management" were taken on a tour of the Al Kass TV broadcast facility. During the tour, the delegates had the opportunity to engage in practical learning activities and met with key individuals from the media sports production teams to better understand their operations.
Speaking about the programme, Phil Clements, one of Josoor Institute's speakers and Principal Consultant for International Development at Leeds Beckett University, said: "The third block of the Major Events Management certificate and diploma programmes was mostly focused on marketing, communications and public relations for mega sporting and non-sporting events. These topics are vital for the success of any event, particularly in countries like Qatar, where the events industry has experienced an impressive growth in recent years. Mega events require skilled and talented people to ensure their success and a good marketing strategy is always the starting point."
Commenting on the significant progress made by Qatar in the sports and events industries, he added:
"There are several visits I have made to Doha since 2013 and every time I return I am amazed by the great progress made in the country. With the support from Josoor Institute in creating a new generation of passionate and well prepared professionals, Qatar has already started building a strong reputation as a leading destination for mega events in the MENA region."
In addition to the returning speakers, the third block welcomed several new speakers such as Jane Welbourn and Lucy Laville from Leeds Beckett University; Scott McCune, who led global marketing and operations for Coca-Cola Company at eight Olympic Games, four FIFA World Cups, several European Football Championships and Rugby World Cups.
"The purpose of this week's programme was mainly to give the delegates a greater understanding of the many components that form the essential relationship between media and the sports industry," said long-time sports industry executive Bobby Goldwater and President of The Goldwater Group.
The Georgetown University Sports Industry Management graduate programme lecturer explained: "It continues to be an honour for me to be part of the programme and I believe Josoor Institute does a wonderful job in bringing so many outstanding, highly regarded academia and executives to share their knowledge and experience with the delegates here in Qatar. Qatar is not only a beautiful destination by itself, but also the home of the 2022 FIFA World Cup, it is why it is so significant to have this type of programme here."
In 2016 Josoor Institute's agenda includes conducting programmes on a variety of subjects such as marketing and PR for sports and major events, the management of sports federations, sports in major events protocol, running major events, business leadership, media and journalism for mega sporting and non-sporting events, to name a few.
To learn more about Josoor Institute and its upcoming programmes, visit www.josoorinstitute.qa.