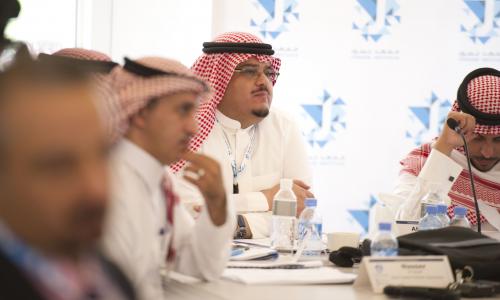 Josoor Institute, a centre of excellence founded by the Supreme Committee for Delivery & Legacy (SC), announced the launch of the second intake of its professional certificate and diploma programmes. These programmes are now open to the public and the block will take place from 2-6 August 2015. The professional certificates and diplomas focus on sports management and major events management.
Owing to the popularity and high demand of the first intake of certificate and diploma programmes organised by Josoor Institute in April 2015, the second intake of the programmes is being offered to the wider public. The programmes are organised in partnership with leading international academic partners including Georgetown University, University of Liverpool and Leeds Beckett University.
The programmes are a unique learning opportunity. They are tailored to provide individuals working in or having a desire to work in the sports management or major events management industries with professional knowledge and skills, and to develop their management and leadership competencies.
The Professional Certificate and Diploma programmes, titled 'Football and Sports Management' and 'Major Events Management' will be delivered in six core subject modules and one management and leadership module; they will be delivered in six day blocks spread over an 18-month period. Delivered in part time format, the programmes allow delegates to continue with their education and professional careers. The programmes enable them to learn the practical and theoretical applications of the course content with platforms for discussions and feedback. This delivery method will enable delegates to fully understand the industries and make better informed career decisions.
Commenting on this development, Mushtaq Al Waeli, Executive Director (acting) of Josoor Institute said, "We, along with our partner universities, launched the first block of certificate and diploma programmes in April 2015. These programmes attracted more than 80 delegates. Immense interest and positive feedback has led us to launch a second intake for the programmes."
"With the second intake we have now reached out to the wider public and carefully evaluated the needs of our partner organisations and individuals. As a result of this, the programme fee is slated at a competitive level, detailed information of which is available on our website. We are committed towards developing highly skilled human capital within the MENA region, individuals who will build a lasting legacy," Al Waeli added.
The programmes have attracted delegates from SC, Qatar Football Association, Qatar Stars League, Aspire Academy, Abu Issa Holding, Qatar Tourism Authority, Qatar National Convention Centre and representatives from regional football associations in Yemen, Tunisia, Palestine and Saudi Arabia.
The programmes are delivered predominantly in English with simultaneous translation in Arabic. The delegates should, however, be comfortable to work and interact in basic business English, which is also the main language of the assessments. For the certificate programme registration, a high school diploma or a minimum of five years relevant industry working experience is required, while for the diploma programme a relevant subject undergraduate degree or three years of relevant industry working experience with any undergraduate degree is needed. The delegates should also fulfil the required English language level requirements. For more details on the upcoming programmes, interested applicants can visit: www.josoorinstitute.qa