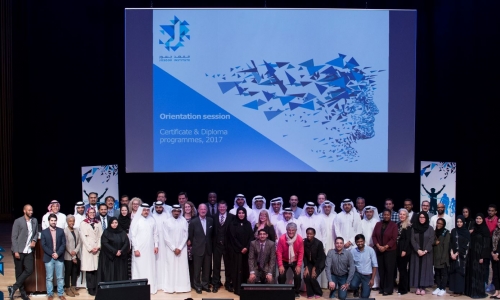 Josoor Institute launched the second cohort of its flagship professional certificate and diploma programmes, marking the week with a series of engaging presentations, seminars and panel discussions. The "Football and Sports Management" and "Major Events Management" welcomed over 80 delegates who joined the programmes for the year.
Josoor Institute is a centre of excellence for the sports and events industries, inspired and developed by the Supreme Committee for Delivery & Legacy (SC). Its flagship certificate and diploma programmes are designed to equip the talents of the sports and events industry of the MENA region with the skills they need to deliver a successful 2022 FIFA World Cup™ and help build a legacy for the region. The programmes are organised and delivered in partnership with Georgetown University, University of Liverpool and Leeds Beckett University. From the organisation and management of large-scale events to understanding the world of football, these programmes provide delegates with a unique learning opportunity with insights from partner universities' world-class delivery teams.
The 2017 cohort welcomed delegates from Qatar, Saudi Arabia, Tunisia and Bahrain coming from a range of organisations including the SC, Qatar Football Association, Qatar Stars League, Aspire, Qatar National Bank, Qatar Foundation, Saudi Arabia Football Association and Tunisian Football Federation. The cohort also includes 20 senior sports science students from Qatar University. This year's programmes host a great diversity in delegates with a strong female presence marked with a 48 per cent female ratio. The programmes also welcomed delegates from 29 different nationalities including 45 Qatari nationals.
Addressing the new delegates at the professional certificate and diploma programmes' orientation event, Afraa Al Noaimi, Director of Operations said: "I am very proud of how far Josoor Institute has come in a span of three years. After the wonderful results of last year's graduate programme, I am confident that this year will see similar success. Our work at Josoor Institute is raising the standards of the sports and events industry in Qatar, and putting the region on the map as a world-class destination for major sporting events."
Delivered part-time in six blocks over 12 months, the programmes allow delegates to continue with their education and professional careers and enable them to learn the practical and theoretical applications of the sessions and apply them to their work.
Josoor Institute will also hold a training and development programme focused around the 'business of football' in late March in partnership with Leaders, a global sporting events, publishing, consultancy and training business.
For more information about registration and timing for upcoming programmes, interested delegates are encouraged to visit Josoor Institute's website www.josoorinstitute.qa or contact delegate@josoorinstitute.qa to find out more.