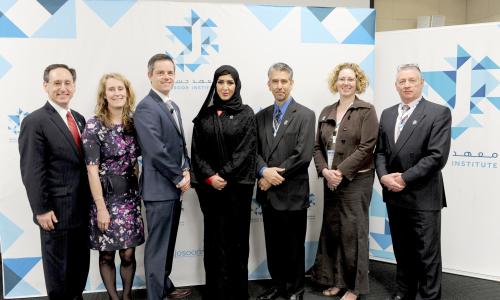 Josoor Institute, a centre of excellence for the sports and events industries in the Middle East and North Africa (MENA) region, today launched its professional certificate and diploma programmes. Designed to provide a detailed understanding of the necessary skills involved in the management of sports and events, the new programmes reiterate Josoor Institute's mandate to enable the successful delivery of a historic 2022 FIFA World CupTM and help build a legacy for the region.
Launched in partnership with leading international academic partners including Georgetown University, University of Liverpool and Leeds Beckett University, the part-time programmes include six blocks spread over an 18-month period. The programmes are specially curated to provide aspirants and professionals knowledge and skills, and help develop their management and leadership competencies. From the organisation and management of large-scale events to understanding the world of football, these courses provide a unique learning opportunity with insights from world-class delivery teams from the partner universities.  
The Certificate and Diploma programmes will provide a detailed learning and understanding of the skills required to prepare professionals in the region for the sports and events industries. Specifically, the Professional Certificate and Professional Diploma programme on 'Football and Sports Management' will focus on the various specialised and managerial aspects of the sports business with a special emphasis on football.  Delegates shall derive insights into managerial theories and their practical application in the business of sports.
Similarly, the Professional Certificate and Professional Diploma programme on 'Major Events Management' will provide delegates an interactive learning opportunity with specific sessions from industry experts and academics focusing on the conceptualisation, organisation and execution of large scale events.  The first block of certificates titled 'Major Events Management' and 'Football and Sports Management' are currently under way.
Commenting on the launch of these programmes, Mushtaq Al-Waeli, Executive Director (acting) of Josoor Institute said, "Josoor Institute is committed to capacity development within Qatar and the MENA region. With the launch of certificate and diploma programmes, we have entered the next phase of our exciting journey to enhance skills amongst regional audiences and support their professional development. We continuously strive to provide opportunities that enrich the learning environment and nurture and inspire the young generation. With these programmes we are providing our delegates with a unique opportunity to contribute towards the growth and development of sustainable sports and events industries in our region."
Delivered in part time format, the programmes allow candidates to continue with their education and professional careers, and enables them to learn the practical and theoretical applications of the course content with platforms for discussion and feedback to help them fully understand the industries and make better informed career decisions.
Dr Khalid Bibi, Associate Dean for Academic Programmes at Georgetown University said, "One of the biggest challenges facing the development of any industry is finding the right talent. Qatar and the Middle East region are a sought-after destination for international tourism and a preferred host for major sports events. It is very important to train local talent and provide them with learning opportunities that fulfil their career aspirations and support the development of the regional ecosystem. We are proud to be engaged with Josoor Institute and support them in their efforts to create legacy opportunities, as Qatar gears up to host one of the biggest sporting extravaganzas."
The Diploma programmes are scheduled from 12-16 April 2015. These will provide great learning opportunities with insights from industry experts and academics for delegates who are keen on pursuing a long-term career in major events management or football and sports management.
The newly launched programmes have already garnered immense interest from the industry with attending delegates from the Supreme Committee for Delivery & Legacy, the Qatar Football Association, Qatar Stars League, Aspire, Abu Issa Holding, the Saudi Pro League, the Qatar Tourism Authority, Qatar National Convention Centre (QNCC) and representatives from regional Football Associations including Yemen, Tunisia, Palestine and Saudi Arabia. These are in addition to the 1,150 delegates from across Qatar and the MENA region that Josoor Institute has imparted industry best practice, skills and expertise to date.
For more information on Josoor Institute and its activities visit www.josoorinstitute.qa