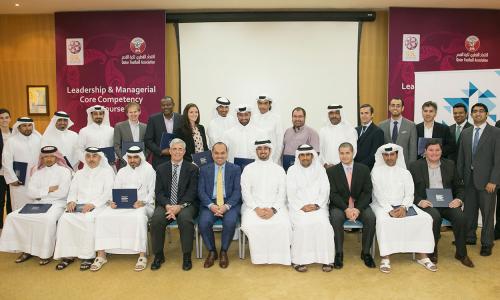 Josoor Institute, a centre of excellence for the sports and events industries, in partnership with Georgetown University's McDonough School of Business, recently concluded a successful, week-long bespoke 'Leadership and Managerial Core Competencies' executive education programme for the Qatar Football Association (QFA) and the Qatar Stars League (QSL).
More than 25 senior managers from both the QFA and the QSL attended the course, exclusively developed and tailored to the requirements of both organisations. The attendees benefited from a wide range of practical and interactive workshops, exercises and teaching sessions during the five days with course content designed to support the managers' professional growth and development and prepare them as future leaders.
A range of international managerial experts and renowned academics delivered the course sessions focusing on a wide range of topics including strategy, business acumen, people and leadership, entrepreneurship and innovation, management and communication skills, project and financial management and customer experience.  
The executive education programme builds on the impressive success of several courses organised by Josoor Institute for the QFA and the QSL to date. The recently concluded programme focused on building managers' leadership skills, enhancing strategic thinking, improving decision-making, fostering team effectiveness and encouraging creative thinking. The programme also provided unique opportunities for managers and senior executives to share their knowledge, ideas and experiences with one another, supporting personal development and growth. Through courses such as these, Josoor Institute aims to enhance sports and events professionals' skills, knowledge and expertise both in Qatar and across the Middle East and North Africa (MENA) region.
Commenting on the latest executive education programme Mushtaq Al-Waeli, Executive Director (acting) of Josoor Institute said, "We are extremely honoured by our partnership with the QFA and the QSL, and pleased with the success of this latest course. Delegates have clearly indicated the benefits they derive and how they are able to directly apply key learnings to their professional growth and development. This builds on a strong track record of courses that Josoor Institute has previously delivered for both organisations." He further elaborated, "We are continually committed to achieving the highest standards of excellence across the sports and events industries in Qatar and beyond. That is why we have partnered with one of the world's leading academic institutions, Georgetown University, to work closely with us and bring global best practice to our region."      
Among the presenters from Georgetown University were Dr Michael McDermott, Professor and Dr Rebecca Heino, Teaching Professor. They were joined by Roberto Flores, Assistant Dean for Program Management at Georgetown University and Ryan Bowd, Director of Education from Josoor Institute.
Nasser Al Maslamani, Acting Director of Human Resources at the QSL, who attended the programme said, "The programme has widened our perspectives into leadership and key aspects of management within our industry. It has allowed us to reflect on our roles as organisational leaders and grasp an understanding of developments in the field of leadership and management. It has also helped us to identify the critical factors required to become pioneers within the sports industry both in Qatar and across the region. This is especially important as in the coming years our industry will play a key role in ensuring an amazing global event at the 2022 FIFA World Cup, highlighting to the world our Qatari culture and our region's uniqueness." 
Dr Michael McDermott, Professor at Georgetown University, who delivered the programme said, "We believe Josoor Institute is playing a vital role in building the skills and the knowledge assets of people that can be brought to the sports industry and to the world. This will surely enable them to host world class events in the region. Georgetown University highly values its partnership with Josoor Institute. We had a great collaboration in putting together the Executive Education Programme with our knowledgeable faculty who are world experts in sports and events, as well as management. Josoor Institute has been rigorous in defining what the needs of delegates are and what new capabilities they would like to see in them from this programme."
Josoor Institute's programmes and courses are designed to impart industry best knowledge, skills and expertise that enable the effective and successful management of sporting events in the region.
Josoor Institute is proud to be affiliated with Georgetown University, a leading academic and research institution in the United States.  Named as Josoor Institute's institutional and lead academic partner, Georgetown University provides academic and administrative support which includes collaboration and innovation in the areas related to curriculum development, quality management, oversight and endorsement for short courses and the development of the academic framework and co-development of content for long courses.
For more information on Josoor Institute and its activities, visit www.josoorinstitute.qa