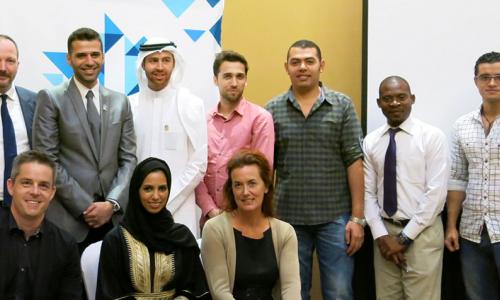 Josoor Institute facilitated a session and panel discussion entitled 'Sports and Events Opportunity for Entrepreneurs' at the recently concluded Global Entrepreneurship Week Qatar. The session featured a distinguished panel of regional and international guests who gathered to discuss methods to both promote and provide an overview to entrepreneurship in Qatar.
Entrepreneurship is at the heart of a vibrant economy and nowhere more so than in sport, which is characterised by enterprise the world over. The presence of major events in Qatar represents an opportunity for individuals and businesses to develop commercial operations and contribute to a long-term economic legacy.
Course facilitator Ryan Bowd, the director of education for Josoor Institute, spoke of the "phenomenal opportunities" for entrepreneurs based in Qatar. "Sport is a growing opportunity here. We're seeing people use sport as a vehicle to develop both industries and profiles," explained Bowd.
He further explained, "Qatar has a great 2030 vision, so people who are thinking about enterprise in Qatar are in a unique position. Sports and leisure are being pegged into those future plans. It is an incredibly unique opportunity in this space because of the fact that Qatar is being developed extraordinarily fast by the government for these sectors."
Among the valued array of speakers were individuals who have founded their own business operations and those who have assisted in the management of major and local events to encourage an increase in enterprise.     
Those featured included Marouf Mahmood, the Qatari founder of Carbon Wheels, the first expert bicycle shop in the country. Also speaking was Qatari golfer Yasmian Al-Sharshani, who has represented Qatar since 2008 and is the only player to do so.
Alan Bucknall also spoke about his experiences as the Legacy advisor for the Supreme Committee for Delivery & Legacy and his previous roles at the 2012 London Olympic and Paralympic Games. Alongside Bucknall was Mohammad Zaabalawi, the CEO of Quantum Sports, who pioneered the development of sporting activities for the local residents of Qatar.
Held at the Marriot Marquis in Doha's vibrant city centre, the talk was delivered to an engaged audience, with innovative ideas that contributed to a lively discussion with the guest speakers.
Josoor Institute aims to educate, empower and support the talented individuals who will help build and deliver outstanding sporting events in Qatar and throughout the Middle East and North Africa. Since its inception, nine short courses, two student outreach days and one bespoke course for the players of the Qatar Stars League have been conducted by Josoor Institute. These have featured 65 world-class speakers with more than 700 delegates from 49 countries attending.