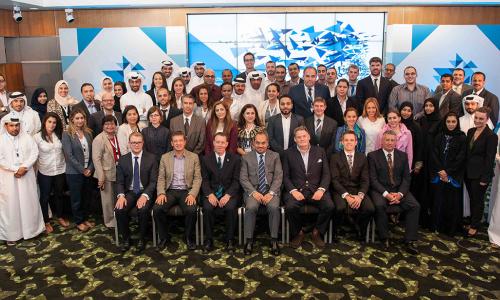 Josoor Institute, a centre of excellence for the sport and events industries, launched a two-day short course (16-17 September) titled "An Introduction to Running Major Events" at the Qatar National Convention Centre in Doha. The course is being attended by more than 70 delegates including professionals from the Supreme Committee for Delivery & Legacy, and local and regional federations who are bidding, organising or staging large-scale events.
The course, which has witnessed an unprecedented level of registration and participation, aims to enable delegates to achieve an understanding of all key areas of major event management. 
It is also designed to highlight potential challenges and how to address them, as well as inspiring participants to maximise every potential opportunity to deliver major global events to the highest possible standard.
Josoor Institute has invited world-class experts to share their experience with local and regional professionals in order to enrich and capitalise on their current knowledge.  Experts include: Nigel Rushman, the founder of Rushmans, a group that specialises in various areas of event delivery; Paul Williamson who recently held the position of director of ticketing at the London 2012 Olympic and Paralympic Games, which sold 10.99 million tickets with a value of $1 billion; Phil Clements, senior lecturer at Leeds Metropolitan UK Centre for Events Management; and Fatma Al Remaihi the acting CEO of the Doha Film Institute.
Reflecting on his attendance at the course, Saleh Al-Muhannadi, Administration Director at the Supreme Committee for Delivery & Legacy said, "For participants, Josoor Institute's course opens the door into the world of running major events, whether through providing an understanding of how to put together an effective bid, running a successful major event, or other operational logistics relating to hosting major events. The course is very useful and the learnings can be taken back to our work."
During the detailed course sessions and workshops, speakers provide in-depth overviews of success factors in the delivery of major events, what it takes to make up a successful bid and what is needed to deliver major events. Furthermore, the sessions outlined the key elements of volunteering and engaging the public prior to the event.
Mushtaq Al-Waeli, Executive Director (acting) for Josoor Institute said: "Educating and empowering the talented people of Qatar and the region to build sustainable sports and events industries is our ultimate goal. Josoor Institute is committed to deliver on this promise in the lead up to the 2022 FIFA World Cup in Qatar and beyond. We will provide all the necessary resources and expertise to transfer knowledge from world-class experts to our region, ensuring that delegates receive the best training and education from this course and our upcoming courses."  
Josoor Institute ran the same course in December 2013 and repeated it today due to popular demand. Once again receiving high praise from delegates, the course is now being planned for a third time with dates to be confirmed.
Josoor Institute will be introducing a new set of longer term programmes early next year, which offer professional certificates and diplomas. These are designed to give a deep learning and understanding of the skills required to prepare people for entry from a different industry and to equip junior to mid-level career moves for those already working within the industry. 
Launched in December 2013, the Josoor Institute is training many of the people who will play an integral role in Qatar's hosting of the 2022 FIFA World Cup™, individuals who will then have the knowledge to deliver large-scale sporting and non-sporting events across the region long after 2022.