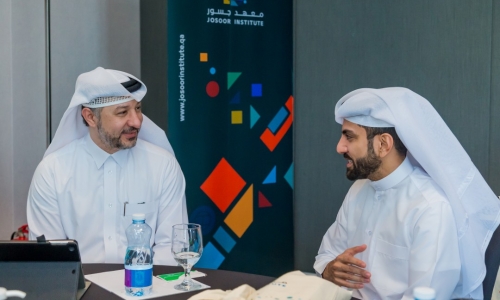 For the past 9 years, I have been fortunate to be a part of Josoor Institute (JI), the education and training arm of the Supreme Committee for Delivery & Legacy (SC). With under 14 months until the FIFA World Cup Qatar 2022™, we have continued to drive forward Josoor's mission of building the capabilities of the sports and events industries in Qatar and the region, both in the lead up to, as well as beyond this mega-event.
So far, Josoor has benefitted over 5,000 participants throughout its broad set of education and training activities in the sports and events industry. At the core of its education initiatives are the Professional Diploma Programmes in Sports Management and Major Events Management. Delivered in partnership with SDA Bocconi School of Management, the programmes aim to create a body of professionals that are directly involved in the delivery of the FIFA World Cup™ and that will contribute to future sports competitions and other events in Qatar, the MENA (Middle East and North Africa) region and internationally.
Our delegates come from a wide array of personal and professional backgrounds and we are increasingly registering the interest of people from other backgrounds, who see potential for a lateral move, or who are simply very excited by the prospect of the World Cup in Qatar. We also have athletes among our delegates, who joined the programme in the hopes of exploring the next stages of their careers following a successful and competitive sporting journey. It gives me great pride to say that by spring 2022, the diploma programmes will have graduated nearly 500 delegates.
In addition to education, Josoor offers training sessions to address the specific requirements of the 2022 World Cup, including function-specific and role-specific trainings of workforce and volunteers. Parallel to that are the Executive Leadership Development programmes, which are delivered in partnership with Leaders in Sports in the United Kingdom (UK). These target senior management and emerging talent from organisations in the sports and events industry. Previously in 2015, as part of the programme, delegates had the opportunity to take part in the Leaders Sport Performance Summit in London and hear directly from sports industry leaders.
 This September, Josoor hosted its first face-to-face training session since the outbreak of COVID-19 during the 2021 Executive Development Programme. It was a heart-warming experience to see trainers finally joining the group of participants in Doha for the first time. Attendees got the opportunity to speak to Ms. Alexandra Willis, Communications & Marketing Director at the All England Lawn Tennis Club (Wimbledon), as well as Mr. Robert Elstone, former Chief Executive Officer of Everton FC. During these week-long training sessions, participants explored the themes of resilience, managing across teams and networking. 
Other than that, in the last 12 months, Josoor has been working tirelessly to produce and facilitate various training sessions, including volunteer training for both team leaders and larger groups, as well as executive training for senior managers of the ASEAN Football Federation - in partnership with the Qatar Football Association (QFA). Health, Safety, Security and Environment (HSSE) training was also conducted, as was an executive leadership training session for colleagues at the SC.
What I most look forward to, however, is to once again be able to take participants to London for an on-site experience in the UK, as soon as conditions go back to normal. I believe that the opportunity to learn from industry leaders, in conjunction with a major conference such as the much-acclaimed Leaders Sport Performance Summit in London, is definitely a plus for our delegates, as it gives them direct exposure to people, content and platforms that are key to their career development.
We, at Josoor, strive to do exactly that with our very own online series, Hiwar, which means dialogue in Arabic. Under Hiwar, we shed light on major sports and events industry issues, including but not limited to, the challenges the COVID-19 pandemic has presented. The sessions, along with a set of research publications and case studies in sports and events industry and other relevant domains, are available on Josoor's knowledge hub at: knowledgehub.josoorinstitute.qa.
In the run up to 2022, I am excited to witness how Josoor will continue to deliver on its mission of training professionals that are contributing to the delivery of the tournament. We have the ambition to become the sports and events management hub in Qatar and the greater MENA region, as well as nurture a world-class professional network in its domains.