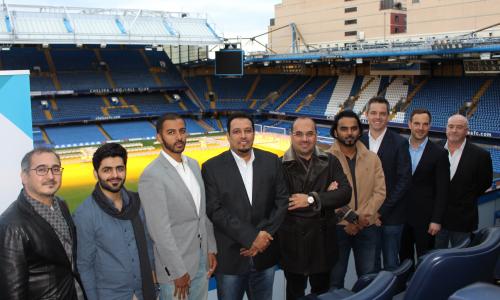 Earlier this month, Josoor Institute, a centre of excellence for the sports and events industries, inspired and developed by the Supreme Committee for Delivery & Legacy (SC), hosted its first-ever Sports Performance Leadership executive development programme. The unique eight-day programme took place in Doha and in London. The programme was co-hosted with Leaders™, a global event, publishing and consultancy business.
The programme attracted delegates from the SC, the Qatar Football Association, the Qatar Stars League, Qatar Foundation, Aspire, and Lekhwiya Sports Club. During the programme, speakers from the world of sports, business and academia shared their insights into how to become effective leaders and managers. The sessions addressed personal development, skills for managing teams and developing talent, and strategies for creating and sustaining high-performance organisations.
The first half of the programme was delivered in Doha. Delegated then travelled to London to attend the second leg of the programme and attended the exclusive Leaders Sport Performance Summit, which is one of the preeminent conferences in the industry. In London, the programme delivery was held at the Emirates Stadium – home of Arsenal Football Club and Stamford Bridge – home of Chelsea Football Club. To give a first-hand knowledge about stadium operations, delegates were taken on tours of both of the prestigious clubs.
"We are pleased to work once again with our partner Leaders, and their world-class speakers to deliver the Sports Performance Leadership programme. Our delegates had the chance to network with some of the most influential people in sports and learned valuable skills that will help them develop both personally and professionally," said Mushtaq Al Waeli, Executive Director (acting) of Josoor Institute.
"Josoor Institute's executive development programmes are distinctly positioned for delegates to gain comprehensive, innovative and applicable knowledge and skills that will facilitate the translation of vision into action in their work. This is in line with Josoor Institute's mission to develop a generation of professionals in Qatar and across the region who are equipped to thrive in a global business environment," he added.
This is the second collaboration between Josoor Institute with Leaders, following the success of the 'Leadership: Lessons for Sport' executive development programme that was delivered in February 2015. Leaders are also one of Josoor Institute's Programme and Course delivery partners.
Speaking about the programme, James Worrall, Founder and CEO of Leaders, commented, "Since 2008, Leaders has championed excellence in international sport, delivering the best insights and content to professionals in sports business and sports performance. We are excited to extend that influence through our partnership with Josoor Institute. We hope that this collaboration continues to help elevate the sports industry in the MENA region for years to come."
As part of the programme, delegates had the opportunity to attend sessions and interact with experts such as sports psychologist Tom Cross; Steve Gera, High Performance Consultant - NFL & NBA teams; Prof Chris Brady, Director of Salford University's Centre for Sports Business; Michael Reschke, Technical Director, FC Bayern Munich and Richard Hytner, Deputy Chairman Worldwide, Saatchi & Saatchi to name a few.
To learn more about Josoor Institute and its upcoming programmes, visit www.josoorinstitute.qa.