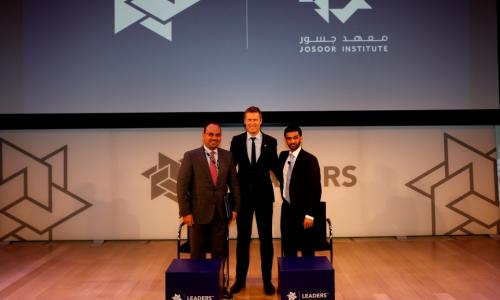 Josoor Institute, a centre of excellence for the sports and events industries in the Middle East and North Africa (MENA) region today announced that it has signed a long-term partnership agreement with Leaders, a global event, publishing and consultancy business. The partnership will further develop the strong ties between the two organisations, enhancing education and training for sports and events professionals in Qatar and across the MENA region.
The two organisations signed a Memorandum of Understanding (MoU) during the recent Leaders Sport Business Summit held in New York, a global event attended by senior executives from more than 30 sporting disciplines and drawn from more than 40 countries.
Hassan Al Thawadi, Secretary General of the Supreme Committee for Delivery & Legacy, which founded the Josoor Institute, represented the organisation at the signing ceremony. He was joined by James Worrall, founder and chief executive officer of Leaders in signing the agreement.
Al Thawadi highlighted the significance of the development and said, "To successfully deliver the Middle East's first FIFA World Cup means equipping sports and events professionals with the very best skills and expertise. Josoor Institute was founded to fulfil this need and to start building today a sustainable sports and events industry that will last well beyond 2022, by educating, empowering and supporting the many talented people of our region.  Extending our partnership with Leaders will enable us to go further and faster in building outstanding and lasting sports and events industries in Qatar and throughout the region."
The move strengthens the existing strategic partnership between the two organisations and will lead to closer collaboration and sharing of industry best practice and experience to support sports and events management professionals in the region.
Mushtaq Al-Waeli, Executive Director (acting) of Josoor Institute was also present at the official signing ceremony. Commenting on the partnership, Al-Waeli said: "This is an important milestone for Josoor Institute and it reiterates our commitment to fostering strategic partnerships with globally renowned organisations across the sports and events industries. We are delighted with this partnership as it enables us to jointly develop and deliver outstanding sports leadership programmes and exclusive events that will benefit our industry in the region."
In February, Josoor Institute and Leaders concluded a two-day professional development workshop titled 'Leadership: Lessons for Sport'. A number of the most senior figures from the sports and events industries in Qatar and across the region benefited from sessions that focused on sharing best practice in organisational leadership and management as well as valuable leadership lessons drawn from the experience of influential global figures across government, the sports and events industries and related fields. The workshop was the first time that Leaders has organised a summit for senior executives in the MENA region.
"These are exciting times for the MENA region. Through our partnership with Josoor Institute, we will be able to cater to the needs and requirements of high calibre audiences. We're confident our expertise will prove beneficial for the regional sports and events industry," said Worrall from Leaders.  
To date, Josoor Institute in collaboration with its institutional partners has imparted industry best practice, skills and expertise to more than 1,150 delegates in the sports and events industries across Qatar and the MENA region. These include regional participants from Bahrain, Egypt, Iran, Iraq, Jordon, Saudi Arabia, Tunisia, Lebanon and the UAE to list a few. For more information on Josoor Institute and its activities visit www.josoorinstitute.qa.