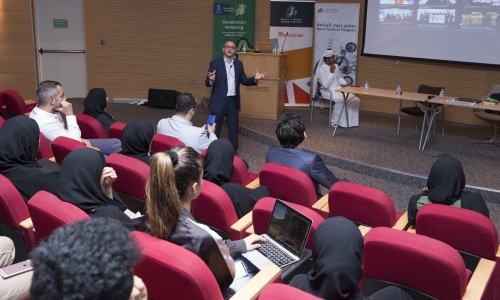 27 November 2018: Doha, Qatar – Students from Qatar University (QU) showed keen interest in an outreach session held recently by Josoor Institute, a centre of excellence for the sports and events industries that is inspired and developed by the Supreme Committee for Delivery & Legacy (SC). The outreach session, held in collaboration with Generation Amazing, was titled Building a Legacy towards 2022 & Beyond.
The session was attended by over 30 students from QU who were introduced to Josoor Institute and Generation Amazing, two legacy projects of the SC.
The students were briefed on the efforts of Josoor Institute to educate, empower and support talented individuals to play an important part in the organisation and execution of the 2022 FIFA World Cup Qatar™. Attendees learned the importance of creating a knowledge-based economy that will help build an outstanding and sustainable sports and events industry in Qatar, and throughout the Middle East and North Africa. More importantly, this was an opportunity for them to meet with the Josoor Institute team and discuss how they could benefit from its programmes and workshops.
Commenting on the success of the session, Afraa Al Noaimi, Executive Director of Josoor Institute and acting Executive Director of Generation Amazing remarked: "We are pleased with the high interest that our outreach session at QU has generated. We have had several students from QU who have been a part of our flagship diploma programmes and workshops, and whose professional progress we monitored by staying engaged with them long after they completed their programmes with us.
"On behalf of these two legacy initiatives, I am thankful to our colleagues at the Sport Science Program who have once again created a great learning opportunity for their students by informing them about how they can collaborate with us. We will continue to seize every opportunity to engage with the youth in Qatar and the region – our next generation of pioneers."
Presenters at the session discussed the mission of Generation Amazing, and its vision of using football for development initiatives to address social issues in countries with an identified need, in line with the sustainable development goals of United Nations. Projects carried out by Generation Amazing have a significant impact on 250,000 beneficiaries in Qatar and overseas, and are driven by its aim to inspire and accelerate development to contribute to the legacy of the 2022 FIFA World Cup in Qatar™. The attending students were also informed of career prospects in the sports industry and future volunteering opportunities with Generation Amazing.
Dr. Mahfoud Amara, Director of the Sport Science Program, College of Arts and Sciences at QU, said: "We were pleased to host Josoor Institute and Generation Amazing at the QU Campus. It was of great benefit for our students to know about the different training programmes and workshops offered by Josoor Institute and how these programmes can complement their academic degrees."
He added: "The diverse initiatives developed by Generation Amazing and Josoor Institute demonstrate the impact these institutions create in Qatar and abroad."
Mahmoud Mohamed Al-Miqdad, Physical Education student at the College of Education at QU, remarked: "It was interesting to learn about the objectives of Josoor Institute and Generation Amazing and the volunteering opportunities they offer. I have participated in organising several tournaments before, and I am now very keen on participating in future volunteering opportunities that they will present. Such experiences will enable me to better serve Qatar in the 2022 FIFA World Cup."
Another student, Zainab Abdulilah Niama Al-Saedi, studying Sports Management at QU, commented: "It was beneficial to learn about Josoor Institute's collaborations with leading universities outside Qatar, and how they strengthen connections with top experts in the field of sports science. I will be happy to take part in their programmes and workshops and would even encourage people who do not work in the sports industry to participate. The 2022 FIFA World Cup is coming to Qatar and we all have an important role to play­­­­."
The outreach session at QU reflected the commitment of Josoor Institute to engage with educational institutions and students in Qatar. Students and alumni from QU have benefitted from professional development workshops in the past, and have enthusiastically participated in the flagship diploma programmes of Josoor Institute.