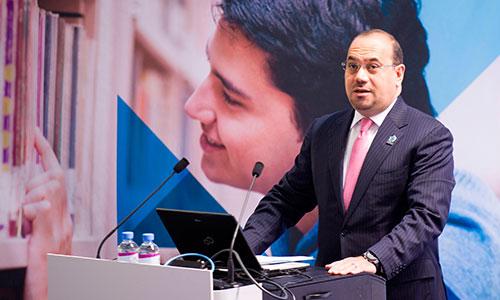 Josoor Institute, a centre of excellence dedicated to delivery of professional training and education for the sports and events industries in the Middle East and North Africa (MENA), in partnership with Qatar Tourism Authority (QTA) is organising a professional development workshop in sports tourism. The workshop will be attended by over 100 delegates at Aspire Academy.
The two-day workshop, titled 'Sports Tourism - A Comprehensive Overview', provides an overview of the sports tourism industry and underlines its importance in Qatar and the MENA region. Although a relatively new concept, sports tourism is rapidly increasing in importance and becoming a central part of successful marketing campaigns for countries, sports and events organisations. The workshop focuses on how sports tourism manifests itself in different regions of the world and examines several case studies on sports tourism from around the world and the MENA region.
More than 100 delegates, including some of the most influential figures from the sports and tourism industries in Qatar, are taking part in the workshop. Delegates include representatives from the Supreme Committee for Delivery & Legacy, Qatar Tourism Authority, Ministry of Economy and Commerce, Ministry of Interior, Qatar University, Qatar Football Association, Aspire, Qatar Museums, Wasserman Media Group, hospitality industry representatives and many others. 
Mushtaq Al-Waeli, the Executive Director (acting) of Josoor Institute delivered the opening note at the workshop and said: "Josoor Institute is committed to enable the successful delivery of a memorable 2022 FIFA World Cup and help build a legacy for Qatar and the region. With the delivery of these innovative workshops, we aim to inspire and support the professional development of our audience especially of the younger generation."
"We are fortunate to have partnered with the QTA and commend the role they have played in making this workshop a success.  The QTA have spearheaded this initiative and it would not have been possible without their vision. We are proud to be involved in its execution and expect to play an instrumental role with them in elevating sports tourism in Qatar," he added.
The sports tourism workshop launched on 20 April is the first in a series of two workshops to be delivered by Josoor Institute in partnership with QTA. The second workshop will focus on the 'Implications of Mega Events for Tourism and Hospitality' and is scheduled for 22-23 April 2015.
Hassan Al Ibrahim, Chief Tourism Development Officer at QTA commented: "QTA is proud of its partnership with the Supreme Committee for Delivery & Legacy, as well as being a founding member of Josoor Institute. This workshop comes within the context of the aforementioned partnership. We do believe it is the perfect timing for tourism, hospitality and sports industries to work together, particularly that the 2022 FIFA World Cup on the horizon and countless other regional and international championships on the calendar, which targets athletes and their fans, as well as sports activities relying on a large number of participants including, marathons and desert challenges. We have to strive to promote sports tourism in Qatar and to offer the tourists and sport lovers from all around the world a more compelling reason to visit Qatar so as to discover all the amazing things it has to offer. We are proud to have partnered with Josoor Institute in order to make these workshops available for the interested public."
The course is delivered by leaders in global and regional sports tourism, hospitality sector, commercial sports sector and academic organisations, including:
Andrea Shaw, Chair, Destination British Columbia and previously Vice President of Sponsorship Sales and Marketing for the Vancouver Organising Committee for the 2010 Olympic and Paralympic Winter Games (VANOC);
Steve Dunlop, Board Member, Visit Scotland;
 Lisa Delpy Neirotti, Ph.D., Associate Professor, George Washington University and founder of the Travel, Events, and Management in Sports conference as well as a consultant to Marriott International, State Tourism offices of Maryland, Idaho, Missouri, Ohio, and Ministries of Tourism in St. Martin and Belize;
Mike Wragg, Executive Vice President, Research, Repucom;
David Collins, Vice President, Wasserman Media Group; and representatives from tourism authorities and institutes in Abu Dhabi amongst others.
Josoor Institute was launched in December 2013 and is a part of the Supreme Committee for Delivery & Legacy. Its purpose is to build the capabilities of the sports and events industries in Qatar and the MENA region, through education, training, professional certification, consultancy and research.  
For more information on Josoor Institute and its activities visit www.josoorinstitute.qa