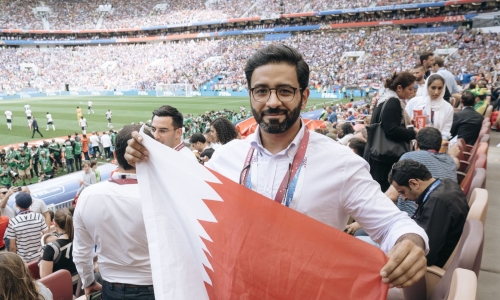 Russian trip provides skills and knowledge for 2022 FIFA World Cup Qatar™
Two Josoor Institute alumni delegates who attended the 2018 FIFA World Cup in Russia™ have taken major strides towards achieving their personal football dreams. Josoor Institute is a centre of excellence for the sports and events industries that is inspired and developed by the Supreme Committee for Delivery & Legacy (SC).
TV director Hamad Sultan Al Kuwari, and Sports Management graduate Eman Al Khamiri recently returned from Russia after being picked by Josoor Institute to take part in the SC's Observation Programme.
Al Khamiri described attending the 2018 FIFA World Cup™ as "a huge responsibility", but one she relished, "as I aspire to become one of the first woman graduates to work in sports management in Doha".
Similarly, Al Kuwari, who works as a Senior Director at Al Kass Sports Channels, said the Russian trip has helped him to further his dream to become the first Qatari to join FIFA's production crew for the 2022 FIFA World Cup Qatar™.
Both delegates hold Professional Diplomas in Football and Sports Management from Josoor Institute and have participated in several of its workshops and programmes.
Al Kuwari said the Russian trip added hugely to his professional skills and production competencies. "Attending the World Cup in Russia gave me a rare and valuable insight into what awaits Qatar in four years' time. I learned first-hand that the secret to success is teamwork, particularly when it comes to media coverage, which is the façade of any sporting event," he said.
Al Kuwari, said he used to believe the success of sports competitions was mainly the result of the successful organisation of games and football matches; a notion he said he has had to rethink following his visit to the Russian tournament.
"I thought the World Cup was just about the matches, but I've learned there's far more to it than just the games; such as the logistics and organisational issues outside the stadium. I've also learned that the community plays an important role in the success of such events. For instance, 6,000 volunteers aged 16-years and over were mobilised in Moscow and positively interacted with fans and visitors."
Al Kuwari believes Qatar should follow Russia's community-focused lead and encourage volunteering among the public, as the country will be visited by more than one million football fans in 2022. "It's impossible to simply rely on official authorities, so all community members should be encouraged to consider volunteering or helping out," he said.
As part of her Russian experience, Al Khamiri visited the Sochi Stadium, where she learned not only about the organisation of games but also the management of facilities, stadium logistics, media coverage, security and surveillance operations, the entry and exit of attendees, players and teams. Face recognition technology used to capture fans on camera was also among the many areas that caught her attention.
"The visit was a golden opportunity to gain expertise on the organisation of an international event like the World Cup. I was focused on learning so I could later transfer my knowledge to Josoor Institute to be implemented at the upcoming 2022 FIFA World Cup in Qatar," said Al Khamiri.
"On a personal level, it was an opportunity to prove myself and my ability to assume responsibilities and tasks at a World Cup level and exchange expertise with participating delegations," she said.
Al Khamiri, who also holds a Sports Management degree from Qatar University (QU), believes that joining Josoor Institute is a key step for Qataris looking to contribute or play a role in the 2022 FIFA World Cup™. "I'm keen to play my part in Qatar's World Cup. And joining Josoor Institute was essential in terms of learning new skills that will further my ambitions and goals."
She said that after leaving university her skills had been boosted by the practical programmes and workshops run by Josoor Institute in partnership with QU. "At Josoor Institute, we applied the skills we'd learned at university in very specific and particular fields. For instance, professionals with expertise at international universities and sports clubs provided insight into sports marketing, which we had learned only as a concept at university."
TV director, Al Kuwari said he has also benefitted greatly from Josoor Institute's programmes, and has taken part in the organisation's Sports Leadership Summit in 2017, exclusively delivered with Georgetown University in Washington, D.C.
Al Kuwari says he is "confident Qatar will rise to the occasion and organise a hugely successful FIFA World Cup tournament in four years' time".