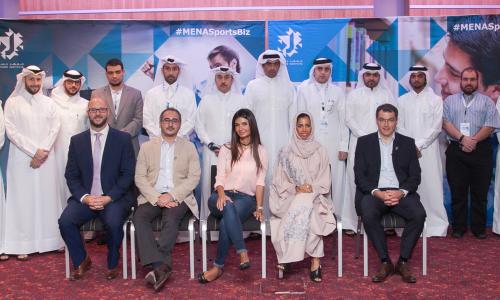 Josoor Institute trains over 170 delegates in strategic management and leadership skills
Josoor Institute, successfully completed the first set of its newly introduced Training and Development Programmes and is gearing up towards its October programmes.  The new set of programmes were delivered in partnership with Leaders, a global event, publishing and consultancy business in sport. The upcoming programmes are set to take place between 17 – 20 October.
Josoor Institute is a centre of excellence for the sports and events industries, inspired and developed by the Supreme Committee for Delivery & Legacy (SC). Driven by its ambition to develop the human capital in the sports and events industries, Josoor institute is tailoring its offerings to fill the knowledge gaps faced in the region.  The programmes to be offered include 'Advance Leadership Programme', 'Professional Development Workshops', 'Masterclass', ''Executive Networking' sessions, 'Outreach' sessions. The sessions delivered in September focused on strategic management and advanced leadership and had over 170 delegates who joined from Qatar and the region. Delegates were very engaged in the discussions that took place throughout the programmes, carrying talks and debates with the speakers and among one another. 
Speaking about Josoor Institute's Training and Development Programmes, Mushtaq Al Waeli, Executive Director (acting) of Josoor Institute said: "With this week's delivery, we hope the delegates have been able to develop their management and high performance leadership skills, get an understanding of how to analyse markets, develop strategies and implement plans. These delegates will go on to build a sustainable sports and events industry in the region and at Josoor Institute we want to ensure that our programmes are tailored to delegates' needs and address the needs that are unique to the region. With each delivery block, we want delegates to gather the knowledge and skillset they need to advance in their career, and to support this we have an interesting line-up of programmes in the coming months."
The training and development programmes include five sets of offerings that started in September and will carry on through to December. The programmes will be delivered in partnership with Leaders who with their extensive knowledge and experience in the sports and mega events industry add considerable value. The range of programmes offered are targeted at a range of audience varying from students to senior executives.  
Sharing his experience from September's training and development programmes, Jonathan Ford, the Chief Executive of the Welsh Football Association said: "This was my first session with Josoor Institute, which I am delighted to be a part of.  It's a fantastic legacy programme set up under the umbrella of the SC in order to really equip the people of this region with some of the skills and expertise that they will need to make a great success of the 2022 FIFA World Cup when it comes here.  Josoor Institute is a great organisation and a great initiative to ensure that you go about doing the things the right way and ultimately host a successful tournament, and allowing the region to go on and bid to stage other events."
The next set of programmes that kick off in October will focus on leadership, commercial best practice and team management. Delegates can register for more than one type of programme of the same theme to gain deeper knowledge and understanding of the presented topics.
The October programmes will be delivered by renowned industry experts including: Chris Brady, Professor and Author, Salford University whose recent book includes interviews with superstars Beckham, Ronaldo and Ibrahimović; Javier Martinez, Managing Director of Business Development, Marketing and Sales of Atletico Madrid; Marc Armstrong, Vice President, Global Marketing Partnerships and Emerging Markets, EMEA for the NBA. The list of speakers also includes Adolfo Bara, Managing Director of Sales and Marketing of La Liga, one of Europe's most popular football leagues and home of world football's most valuable brands – Barcelona and Real Madrid and Alex Tielbeke the CEO of Eredvisie.
The highly anticipated October Advanced Leadership will explore 'Leading Your Talent', which examines managing talent, coaching others and building high performance teams.  The programme will combine best practice- from the global world of sport with business and academic rigor. Throughout the session, delegates will be challenged to share their ideas, engage in critical debates and take on a new perspective.  The learnings from the Advanced Leadership Programme will prove to be very valuable in the day to day work of the attending delegates.  This programme will include delegates from Qatar Football Association, Qatar Stars League and Aspire Academy among others.
Interested delegates are encouraged to visit Josoor Institute's website www.josoorinstitute.qa to find out more about each programme's timings and to register for the programmes. Additionally, they may contact delegate@josoorinstitute.qa for more information.