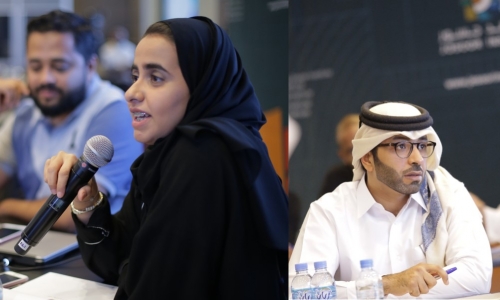 Josoor Institute, a Qatari centre of excellence for the sports and events industries that is inspired and developed by the Supreme Committee for Delivery & Legacy (SC), is providing two of its delegates with the opportunity of a lifetime: to attend the 2018 FIFA World Cup RussiaTM. These delegates will be part of the SC's Observation Programme and will gain first-hand experience of what it takes to put together a major sporting event.
The two delegates – Iman Al Khamri and Hamad Al Kuwari – are both Qatari nationals who have previously attended several of Josoor Institute's programmes and workshops. Al Khamri is a graduate from Qatar University and Josoor Institute's flagship Football and Sports Management Professional Diploma. She has also attended several of Josoor Institute's Student Outreach sessions. She has a keen interest in the sports industry and has recently been working on projects with the Qatar Tennis Federation. As part of her 2018 FIFA World Cup Russia™ Observation Programme, she will be based in Sochi.
Hamad Al Kuwari also earned a Professional Diploma in Football and Sports Management from Josoor Institute. He has participated in the Sports Leadership Summit, which was exclusively delivered with Georgetown University in Washington, D.C., and is currently working with Al Kass as a Senior Producer. Al Kuwari aspires to be the first Qatari Director to take part in the TV production crew that will work on the football tournament in 2022. He will be observing the 2018 FIFA World Cup Russia™ in Moscow.
Sending Al Khamri and Al Kuwari to Russia is an example of Josoor Institute's commitment to providing delegates with access to unrivalled learning opportunities such as this.
Commenting, Afraa Al Noaimi, Executive Director of Josoor Institute:  "By attending one of the world's biggest sporting events, we hope that these individuals have the learning experience of a lifetime. In return, we simply ask that they bring back and apply what they have learned – to help us deliver an amazing 2022 FIFA World Cup Qatar."