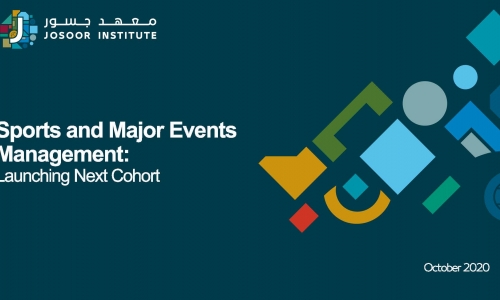 An interview with Afraa Al-Noaimi, Executive Director, Josoor Institute, and Professor Dino Ruta, SDA Bocconi School of Management
Josoor Institute, in partnership with SDA Bocconi School of Management, has opened applications for the fifth year of its highly successful Professional Diploma Programmes in Sports and Major Events Management, which will welcome new delegates in February 2021. An open online session for prospective applicants took place on October 20 at 3PM and available online via the link
Tell us more about Josoor Institute
Afraa: We are the education and training arm of the Supreme Committee for Delivery & Legacy. Our professional diploma programmes in partnership with SDA Bocconi School of Management, trainings and bespoke programmes are for professionals and volunteers that will help deliver an amazing FIFA World Cup 2022TM, and anyone interested in a career in sports management and event management.
In parallel, we support research on relevant themes in sports and events management, with a focus on Qatar and the MENA region, and we regularly produce online sessions, interviews and masterclasses for a variety of audiences.
Tell us about SDA Bocconi School of Management
Dino: SDA Bocconi School of Management (SDAB) is the graduate business school of Bocconi University, one of the leading schools of social science in Europe. Ranked third in the 2019 Financial Times' European Business School Ranking, SDAB produces a variety of customized executive programmes and projects in sports management and event management and has been the partner of the FIFA Master for 20 years. In the latest rankings published by SportBusiness, FIFA Master has been named the best Postgraduate Sports Management course in Europe, for a record 8th time, reaching third place globally.
The city of Milan, and Italy in general, are hubs for sports and events management. In other words when you study with SDA Bocconi, you don't just get a certificate or a degree, you become part of an ecosystem. And you also become a member of a global community of 110,000 alumni spread in over 110 countries.
What would you like to tell the future delegates of Cohort 2021?
Afraa: First of all, this is a very fitful moment in history for everyone, and the first message for us as an educational institution is that learning does not stop. We are excited to launch the fifth edition of the programmes (Cohort 2021) and to again deliver a first-in-class experience to our delegates. Cohort 2021 has the opportunity to be part of two diploma programmes that evolve and are continuously enriched with new content, people and case studies.
We are also getting closer to the FIFA World Cup 2022TM, which from both a sports management and a major events management perspective is an unprecedented platform. Some of our delegates will be or may get involved directly in World Cup related activities. Our message to potential delegates from Qatar is: if you want to get involved, if you want to learn more about two sectors that will become more and more important in Qatar in the coming decades, these programmes are for you.
What can you say about the current cohort, being such a very different year?
Afraa: The year has been and still is challenging for everyone everywhere, for families, and let me stress, for women, based on the data. That is also why Josoor, as a young but dynamic education and training organisation, decided to take up the challenge and continue to deliver all our activities online. It is a duty and a strategic opportunity.
Dino: The current cohort has been doing an amazing job so far in collaboration with our faculty and guest speakers. The level of participation is high and activities are minimally disrupted. Actually, in some cases the focus increased.
Afraa: Clearly, we would love to return to delivering the programme in physical spaces, but at the same time there is a lot to learn from online delivery for our future delegates. "Blended" is the word that comes to mind.
What can you share about the next edition of the Diploma Programmes?
Dino: New people, new topics, new activities. Football of course, but not only football. We have access to an incredibly strong network of leaders from sports and events management. A lot of discussions will likely focus, and nearly in real time, on how the industry reacted and is still going through the challenges of COVID-19.
The programme has some surprises – I still cannot say more but watch this space!
Why is Josoor's programme a unique opportunity for Qatari delegates?
Afraa: We are in the middle of a historical collective adventure for all of us in Qatar. This is not the first time Qatar embarks on visionary projects: just think of the creation of Al Jazeera, or Qatar Airways or Qatar Foundation - all projects that have made a statement in their domain. What makes the FIFA World Cup 2022TM so special is that literally everyone in Qatar will be involved, and a programme in sports or event management in the run up to the event is a unique window.
Second and more in perspective, as I look at Qatar's National Vision 2030, sports and events will be increasingly vital to our economy, and so very simply put, for a young Qatari professional to become skilled in these areas is an opportunity to thrive in a growing industry. We are just at the beginning of this journey. The FIFA World Cup 2022 TM is an immense launchpad, and more will follow for sure!
Why do sports management and major events management go together? What are key differences and commonalities between the two programmes?
Dino: The two diplomas go together for a reason: large sports organisations (football clubs, federations, or broadcasters, stadiums or big brands in sports and so on) often operate through major events. In other words, to a large extent sports management and events management are part of the same industry.
On the other hand, sport management has its key features and so does events management. But other events, large concerts; museum installations; trade fairs; summits, require partly similar, partly very distinctive skills.
That is why we keep a strong link between the two diplomas at the level of the context but at the same time we differentiate, in order to meet the preferences and expectations of two different groups of delegates.
And now the most important question: how can I apply?
Afraa: Anyone interested can visit josoorinstitute.qa for more general information and the application link, along with our contacts if you would need more information.
We are also happy to put you in touch with our delegates and alumni to hear directly from them about the value our programmes have helped generate for them. Our social media channels will also tell you more.