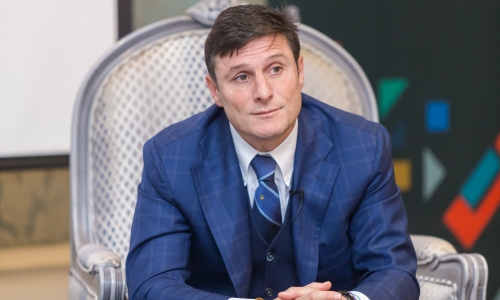 Josoor Institute has successfully collaborated with the Qatar Stars League (QSL) to present a bespoke workshop for players and coaches titled "Managing a Successful Career", from 2-3 December. The programme was designed to develop the athletes' understanding of the business of sport while laying the foundations for them to develop skills for better dealing with stress off the pitch.
Attendees heard from Javier Zanetti, former Champions League winner, now Vice-President of FC Internazionale (Inter Milan) and member of the FIFA Organising Committee, who shared his professional experience and lessons for educational and professional growth off the pitch.
"For a player, there are many distractions that can reduce commitment and focus," Zanetti explained. "Practice is important but also mentality – to be resilient, respect all the stakeholders and be focused on the performance." In terms of his own career growth, he added: "When I finished my career as a football player, I started an executive programme and I have an executive coach who guides me in the development of business skills. I am learning a lot."
Facilitated by Professor Dino Ruta, Scientific Director of the FIFA Master at the SDA Bocconi School of Management and Academic Director of the Diploma Programmes at Josoor Institute, the two-day programme included sessions on how to create a support network to manage the demands of professional sports while maximising professional opportunities. Attendees were exposed to skills that ranged from understanding and managing the media, sponsors, agents, financial investments to long term career planning and professional development.
Afraa Al Noaimi, Executive Director of Josoor Institute, said: "With sport and football booming in Qatar and across the region, more and more young people will have the opportunity to play sport professionally. But at Josoor Institute, we recognise that the demands of professional sport are also increasing and for athletes to stay focused on doing their best on the pitch, they can benefit from such workshops and gain the skills to manage life off the pitch."
Zanetti said: "Qatar is a great example for other countries to follow, with modern infrastructure and professional people that can go far. I think that many players could start studying even while they are playing. It is also important to have the right entourage that can support their intellectual growth."
Delegates had an opportunity to socialise and network at the end of the first day, attending the Qatar versus United Arab Emirates match for the Arabian Gulf Cup together.
Lawrence Anas Mubarak, a football player and participant, said: "This experience is very important for us as players. I myself am not at an early stage in my career but still I need someone with experience to guide me on how to navigate my future path. Josoor Institute did an excellent job in organising this workshop and I am very glad to have participated. Not everyone has the privilege to meet and learn from such an exemplary player as Javier Zanetti, who has been a role model for all of us. Although I play in a different position to his, he is one of the best and his career has several lessons for athletes like us."
Jasser Yahya, another player who participated, said: "I was very glad to learn from a great player like Javier Zanetti. I think that the most important takeaway from the session was that if you are on the right track, you just need to persist and keep pushing and eventually success will come to you. Such workshops are very important because they show us that with the right guidance, it is possible to succeed, and are also an effective platform for us to ask any questions or clear the doubts from some of the greatest players."
The workshop builds on Josoor Institute's continuous efforts to support long-term career planning and professional development to maximise opportunities currently available in Qatar's sports industry. The workshop was intended to be the start of a continuing journey of professional skills and knowledge development for professional athletes in the region.