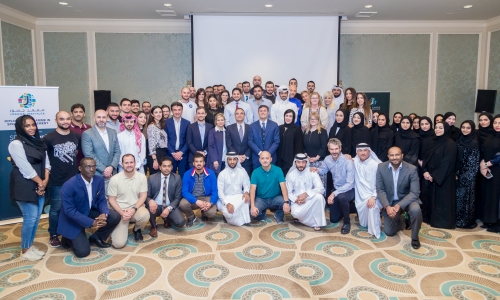 Josoor Institute has opened registration for its Professional Diploma Programmes in Sports Management and Major Events Management, delivered in partnership with SDA Bocconi School of Management, its academic partner university.
The programmes are delivered in six blocks, each module delivered over a week. This year, Josoor Institute is offering the diploma programmes with simultaneous Arabic translation of the lectures, giving easier access to those who would prefer to listen and speak in Arabic.
Bringing together theory and practice, Josoor Institute's Professional Diploma Programmes provide delegates with a firm academic background and a practical skillset, targeting professionals, or those hoping to pursue careers in the sports management or events management fields.
Afraa Al Noaimi, Executive Director of Josoor Institute, noted: "Our Professional Diploma Programmes empower aspiring professionals to tackle work-related challenges they may face in the sports and event sectors with confidence. With the 2019 IAAF World Athletics Championships having just taken place all around the city, there is no need to remind ourselves that Qatar has committed to delivering an outstanding FIFA World Cup Qatar 2022. We are confident that we will continue to build the capabilities to deliver similar tournaments and other major events that lie ahead."
Each block of the programmes include participation by high profile speakers both local and international, to give as much context as possible to ensure an informative education experience for delegates. The third cohort of the Professional Diploma Programmes included industry heavyweights such as Javier Zanetti, Vice President at FC Internazionale Milano and a Member of the Organising Committee for FIFA Competitions; Jane Fraser, acclaimed executive producer; and Adam Crothers, Head of Digital Licensing & Partnerships at Formula 1.
At the same time, content is localised through Josoor Institute's research on the MENA region to contextualise information with local data so delegates can compare and contrast local and international markets.
The diploma modules focus on broadening participants' knowledge in a range of relevant areas. The Sports Management programme covers modules such as Sports Finance; Sports Marketing and Sponsorship; and Sports Media, Digital and Communications. The Major Events Management professional diploma covers modules such as Event Planning and Operations Management; People Management in the Events Industry; and Strategic Marketing and Communications. 
By the end of 2019, when Josoor Institute concludes the third cohort of the diploma programmes, the total number of graduates from the diplomas will reach 252.
The flagship Professional Diploma Programmes build on Josoor Institute's continuous efforts to equip industry professionals with the know-how and creativity required to deliver every facet of world-class event production in Qatar and the wider MENA region, both to ensure the legacy of the FIFA World Cup Qatar 2022™ and to deliver and manage sports and non-sporting events beyond.
Block one of the Professional Diploma Programmes begins on 16 February 2020. Admissions are now open, and 30 January 2020 is the final day to apply. Applicants who have completed a college diploma or a university degree are eligible for admission. For more information and to apply to one of the diploma programmes, please visit https://www.josoorinstitute.qa/ .