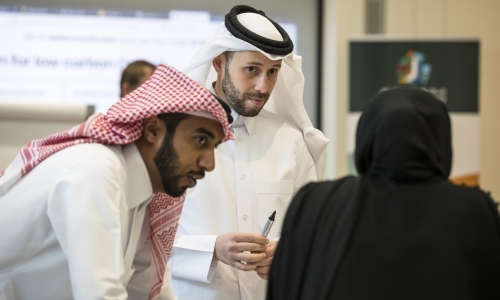 Two FIFA World Cup Qatar 2022™ legacy programmes teamed up with UNESCO to host a webinar about the soft power of sports diplomacy.
Titled 'Introduction to Sports Diplomacy: From Concept to Practice', the webinar was organised by Josoor Institute and Generation Amazing, in collaboration with the UNESCO Office for the Gulf States and Yemen, to provide a platform for sharing a global perspective on using the power of sport to advance national goals. The event featured contributions from politicians, diplomats and football legends.
Opening remarks at the event were delivered by H.E. Hassan Al Thawadi, Secretary General of the Supreme Committee for Delivery & Legacy, the organisation responsible for delivering the infrastructure and legacy for Qatar 2022.
"The overarching and ultimate legacy of Qatar 2022 is people-to-people diplomacy," said Al Thawadi. "Fostering dialogue on utilising sport's power to do good is an important part of delivering Qatar's wider vision. We want to deepen understanding and share knowledge and best practices while using global collaboration to maximise the power of sport to improve lives."
Al Thawadi said legacy programmes such as Generation Amazing, which utilises the power of football to deliver sustainable change in communities around the world, and Josoor Institute, which aims to share the knowledge gained from Qatar's hosting of the World Cup with the next generation of sports and events professionals, will ensure the tournament has a lasting impact on people in Qatar and further afield.
"Our vision is for the 2022 World Cup to be acknowledged as the most transformative sporting event in modern history," said Al Thawadi.
During a keynote address, H.E. Hamad Al Kawari, Minister of State and President of Qatar National Library, said: "Qatar presents a unique model of cultural diplomacy, one that has transformed sport into an ideal means for rapprochement between nations. Our strides in big sporting events coincide with achievements in strengthening the country's image and role as advocates of peace and respect for other cultures and their creative diversity – sport truly supports and adds value to this mission."
Gabriela Ramos, UNESCO's Assistant Director General for Social and Human Sciences, said: "There is a responsibility to put sport higher on the agenda and invest in sport not only as a tool for bringing societies closer but also as a tool for recovery. Massive fiscal packages should also invest in sports facilities, the athletes, coaches and the systems for the promotion of sport and diplomacy. At the same time, sport should be an antidote for the current pandemic of hate speech and discrimination."
The webinar also included messages from people across the football world, including SC ambassador Tim Cahill, who appeared in four FIFA World Cups™ with Australia.
Read the summary of the full session here
You can also watch it here